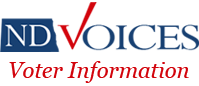 The election is only a few weeks away and there is still plenty of time to learn about the issues and decide on how you want to vote.  But what if you are someone with a disability and are worried that you won't be able to vote once you get to your polling place?  Thanks to the AutoMARK machine available at all ND polling locations, someone with a disability or anyone who struggles with the printed ballot has options. 
The AutoMARK machine is an optical scan ballot marker.  You will still receive a regular paper ballot, but the ballot is placed in the AutoMARK machine which will allow the voter to access the ballot.  Some of the accessibility features include:
·        Touch screen with zoom and contrast feature
·        Braille touchpad keys
·        Audio ballot feature with headphones and ability to increase and decrease volume and tempo
·        Sip and puff interface
·        Paddle switch device
Once finished, the completed ballot will print out and can be placed in the ballot box.  There are several poll workers who can assist in any part of the process.  There is much more information on this machine at the ND Secretary of State's website .
I also found an excellent  video on YouTube on the AutoMARK machine from Wisconsin that does a great job in describing the process. Click here for link or click below.
Abraham Ternes, a wheelchair user from Bismarck, has used the system many times and said, "The system is reliable and easy to use, and you don't have to have a disability to use the AutoMARK."
If you are unable to go to the polling location or want to vote early, you can vote absentee.  All eligible North Dakota voters have the option to apply for an absentee ballot.  The application can be filled out electronically, mailed, faxed or delivered to the county auditor's office.  The ballots are available from the fortieth day before an election.  The absentee ballots must be postmarked or dated stamped the day before the election in order to be counted.