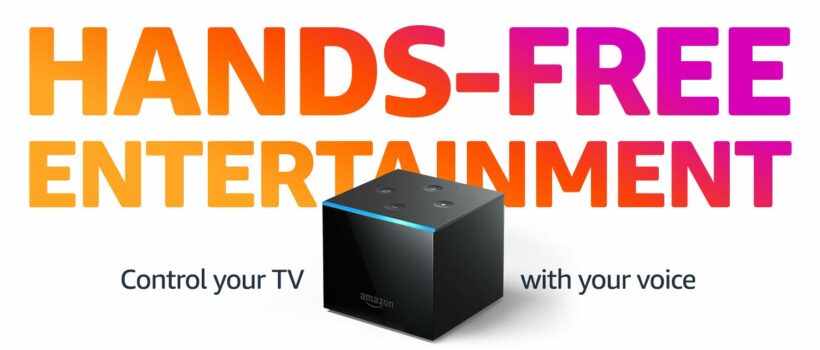 Amazon's 2019 Fire TV Cube comes packed with accessibility features to suit the diverse needs of its users.  Check them out!
Voice Control
Probably the best-known/most-advertised feature of the Fire TV Cube is the ability to control your compatible TV using just your voice. The Fire TV Cube features Amazon's Alexa smart assistant and a built-in microphone that listens for voice commands even when your TV is turned off.
You can turn the TV on/off, turn the volume up/down, change the channel, and switch streaming apps (Netflix, HBO, Disney+, etc.) using just your voice.  When using Amazon's Prime Video, you can search for actors, genres, specific movies and TV shows, etc. using just your voice.  However, not all streaming apps have the same level of voice control integration as Prime Video does so not all of these voice control features may be available.
In addition to being able to control your TV, you can also use Alexa voice commands to control other compatible smart devices in your home such as lights and a thermostat. You can ask it set reminders and timers, check the weather, tell you a joke, play music, view the live feed from your smart doorbell or camera on your TV, make calls, the list goes on!
In order for the Voice Control to work properly, the user needs to have a relatively strong, consistent voice with good fluidity.  Individuals who have soft or inconsistent voices, and/or poor fluidity may have difficulty getting Alexa to understand their voice commands.  However, there are other ways than Voice Control to access the Fire TV Cube so do not fret!
The user also needs to be able to remember the available voice commands.  If this is difficult for the user, a family member or friend might consider creating a list of commonly-used voice commands for the user to have handy.
Vision Features
Audio Descriptions
Some Prime Video titles offer audio descriptions for users with low vision or blindness. Audio descriptions describe what is happening on the screen including "actions, characters, scene changes, on-screen text, and other visual content".
VoiceView
"VoiceView speaks on-screen text out loud as you navigate menu options and settings on your Amazon Fire TV."
Screen Magnifier
Similar to the VoiceView feature, the Screen Magnifier is primarily used to help low vision users navigate the Fire TV's menu options and settings by giving an audio description of the text on the screen.  Amazon notes that the Screen Magnifier feature does not work with most video content.
High Contrast Text (Experimental Feature)
This new accessibility feature is again intended to help low vision users navigate the Fire TV's menu options and settings. "It changes most of the text on-screen to black or white, and adds a border of the opposite color."
Hearing Features
Closed Captions/ Subtitles on Prime Videos
Get subtitles on Prime Video titles to have the audio for your movie or TV show appear as text on-screen.  The Fire TV Cube allows you to change the appearance of your subtitles to make them easier for you to read.  Change the size and color to meet your needs.
Support
Amazon's Fire TV Accessibility Help page offers detailed written instructions and help videos to assist users in getting their Fire TV Cubes set up to meet their needs.
You can also find instructional videos on YouTube that may answer your specific questions.
If you would like to check out the Amazon Fire TV Cube and other smart home devices in-person at one of our demonstration centers in Fargo or Mandan,  please call 800-895-4728 or email info@ndassistive.org.  In addition to Voice Control, our smart homes can also be accessed using touch on a smartphone or tablet, switch control, and eye gaze technology.