Tools used to create art and assistive technology (AT) have a lot in common!
Tools for art and AT are both purchasable from a store, easily modified,  customizable, or something that can be made from scratch.
Just because an art tool or piece of AT was developed for one purpose, doesn't mean it has to be used solely for that purpose. (Think outside the box!)
Tools for art and AT are constantly changing because those who use them want to find different ways to improve their overall usability.
There is not one art tool or piece of AT great for everyone and/or everything.
The artist and/or AT user is not told what device they should use to achieve their goal – they decide what works for them.
Below you will find ideas for AT for the arts. This is not, by any means, an exhaustive list! If you don't see a piece of AT for you need for a specific goal, feel free to contact an Assistive Technology Consultant to explore different options.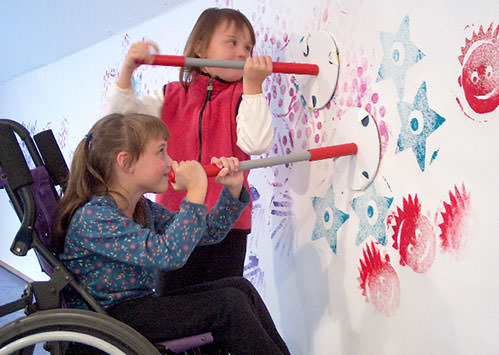 The two girls pictured above are using adaptive stamping tools developed by the creative minds at Zot Arts. These tools, and many more, can be explored or purchased on their website. Zot Arts also travels around the world to provide art events for different disability groups.
Zot Artz www.zotartz.com

In this video you will find a demonstration of the Lime Lighter. This device was developed so that people with low vision could better read sheet music. Users can adjust the music size and appearance so it is large enough to read and easy to see. Using a foot pedal, users can move forward and backward through the music.
Dancing Dots www.dancingdots.com
Film critic Robert Ebert lost his lower jaw to cancer which directly impacts his ability to eat and speak. He uses a combination of AT devices and software for communication to continue contributing to the world of film. Hear him talk about his journey to remake a new voice through the use of assistive technology in the TED talk video above.
There are many adapted wheelchairs and power-chairs available for different passions including rugby, hunting, racing, and more. This power-chair adaptation made for dance is, by far, one of my favorites! The dancer controls the power-chair using a smartphone that can detect the tilt of the dancer's body. For example, if the dancer tilts left, the chair moves left.
Rolling Dance Chair Project http://rdc.arts.usf.edu/
The man in this picture is seated in a power-chair. His camera is mounted on the power-chair and he is using a bite switch to activate the shutter on the camera to take a picture. This is one example of many types of switches photographers with limited use of their hands can use to take their next breathtaking photo!
Conceptus Camera Switches http://www.conceptusinc.com/biteswitch.htm
People with vision loss or blindness, physical disabilities, learning disabilities, and more often benefit from the speech to text software Dragon Naturally Speaking provides to better type, spell, and use their digital devices. When speech to text users with disabilities write their next big play or book, Dragon Naturally Speaking might be the AT solution they turn to to more quickly get their thoughts onto the page.
Nuance http://www.nuance.com/dragon/index.htm