Within a short period of time phones have exponentially evolved from a household shared device to portable personalized smartphones that are capable of making calls and sending text messages, navigating through the world, teaching information, entertaining, acting as a personal assistant and so much more. Although these amazing features serve as a great benefit for many people – smartphones aren't always a smart choice for everyone.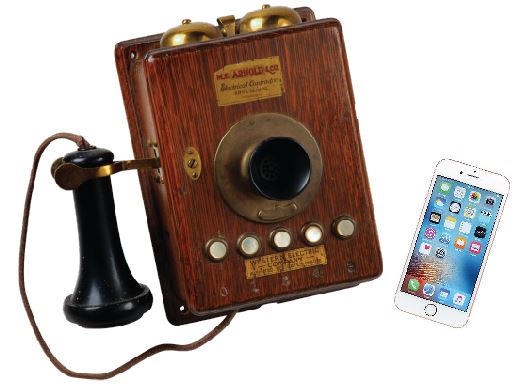 Many factors come into play in why people choose basic cell phones over smartphones. Often I work with individuals with disabilities who chose basic cell phones because they don't need or want all of the features smartphones have to offer. Also, smartphone plans are usually more expensive than basic cell phone plans and people, especially those on fixed incomes, would rather pay the basic cell phone plan price.
Basic Cell Phones Features You Probably Don't Know Exist
Basic cell phones are capable of doing many of the things smartphones can do! Below you'll find a few basic cell phone features that benefit everyone including people with disabilities – especially those with low vision, blindness, and physical disabilities.  Every basic cell phone is different, so check your user manual to see if your basic cell phone includes these amazing features!
Voice Commands – Voice Commands allow you to do things by verbal command
(e.g., make calls, check Voice mail, etc.). With the phone open, press the Voice Commands key on the keypad. Usually the Voice Command key has an icon of a microphone printed on it. It is usually found on the zero key or underneath the menu key. Here are some examples of some voice commands basic phones feature:
Call – Say "Call" and then call someone simply by saying the name or phone number.
Send Message – Say "Send Message" and the command will prompt you for the type of message.
Go to – This allows you to access a menu within the phone.
Check – This allows you to check out a wide range of items such as Phone Status, Voice mail, Message, Missed Calls, Time, Signal Strength, Battery Level, Volume, Balance, Minutes, Payment and My Number.
Contacts – You can look up names in your Contacts as well as manage your Contact List including creating, erasing or modifying.
Search – The "Search" command opens the browser and allows you to search for information over the internet.
Redial – Say "Redial" and the phone will redial the last phone number.
Help – Provides a general guideline to using Voice Commands.
Accessibility – Basic phones have a few of the same built-in Accessibility features that make the iOS and Android supporting devices easier to use for people with disabilities. Here are some of the common Accessibility features found in basic phones:
Readout – Allows you to set various readout settings.
Full Readout – Full Readout reads the screens out loud for blind and low-vision users or when your eyes are busy. To listen to a text message, press the Speakerphone key.
Menu Readout – Allows you to set the phone to read out the Menu List or Alert screen.
Digit Dial Readout – Allows you to set the phone to read out the digits entered in the dialing screen. This feature is especially advantageous for people with low vision who want the keypad buttons they press spoken back to them.
Caller ID Readout – Allows you to set the phone to read out the caller information.  You can choose one of the following options: Ring only/ Caller ID + Ring/ Name Repeat
Passwords Readout – Allows you to set the phone to read out the password when you are entering.
Speech Rate – Allows you to set the speech rate. You can choose one of the following options: Very Fast/ Fast/ Normal/ Slow/ Very Slow
Invert Color – Allows you to invert the screen color contrast for people with difficulty perceiving colors.
Large Text – Allows you to set the text size to large.
Mono Audio – Plays the same sounds to both earpieces so you can hear everything with just one ear.
Turn Off All Sounds – Allows you to set the phone to turn off all sounds.
Basic Cell Phone Features Put Into Action
Recently I worked with Ruth, a woman in her 80s who has Macular Degeneration. She uses a basic flip phone that she utilizes for making calls. Macular Degeneration impacted Ruth's vision so seeing her cell phone's keypad numbers to dial telephone became impossible. Through the Telecommunication Equipment Distribution Program Ruth was able to work with me and receive a free cellphone adaptations assessment and cell phone features training.
As soon as I got to know Ruth and took a look at her cell phone's capabilities I knew a few simple adaptations and little bit of training would take her a long way. I taught Ruth how to dial using Voice Commands, put a small bump dot on the Voice Command button on her phone so it is easier to find, and turned on the Digital Dial Readout feature on her phone so she could more easily dial her cell phone using the keypad. We also made a large print telephone book with all of the names and numbers she has stored in her cell phone so she had something to reference when dialing using Voice Commands.
Ruth loves the changes because they allow her to use her cell phone independently whenever, and wherever she wants. She also couldn't believe those features were in her phone the whole time!