I have always been fascinated with Braille.  I remember as a young child, reading elementary library books about Louis Braille and Helen Keller.  As an adult I learned Grade 1 Braille in order to work at the media center at the ND Vision Services/School for the Blind and marveled at the volumes of Braille on our library shelves.  It still impresses me that a book of dots can open a world of literature to someone who is blind.
Below are a few gift suggestions for either someone who reads Braille or someone who has a love of Braille, just like me.
GIFTS FOR THOSE WHO READ BRAILLE
Braille Christmas Ornament – $10 or could make it yourself
A photo of this item gave me the initial idea of doing this blog.  This ornament could easily be a handmade gift with a regular Christmas ornament and some puff paint or inexpensive rhinestones.
Braille Jewelry: bracelet "Never Give Up" – $30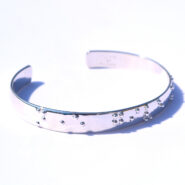 There are many places to find Braille jewelry; just Google it, but I really like this company.  Jewelry in Braille was founded by Kelly Fehr, an artist with a Maters in Fine Art in Jewelry Design, who has a niece who was born blind.  There are bracelets, pendants, and earrings with both Grade 1 and Grade 2 Braille.  She will even do custom pieces.
Madeline Spencer is a Blind Rehab Specialist from Florida who Brailles customized messages on cards.  Her company, Feel My Dots, is on ETSY.
Braille Holiday Cards – 10 for $20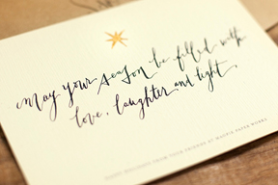 The National Braille Press has Braille Holiday Cards available so your message can be read by a Braille reader as well as an individual who is sighted.  The website reiterates my point, "Sending cards where print and braille stand side by side, as equals, conveys a powerful message."
 "I can't see but I can imagine" Twin Vision Book – $42
Braille/Print Twin Vision books look like the regular children's books but also have a clear plastic overlay of each page.  This overlay has the Braille on it.  What I really like about this book is that the main character is a grandmother who is blind, and it comes with a CD with the text of the book as well as a few songs.  I spoke with the author, Patricia Bennet Wilson, who told me that the songs on the CD included with the book were all written by her grandmother who was blind, and the story in the book is written with that grandmother in mind.
Braille Gift cards at Starbucks – I really like the message giving a gift card with Braille on it has on the recipient.
PROMO T-SHIRTS
The company Etsy has many t-shirts with Braille on them.  Below are a few other companies with fun Braille shirts.
Braille "I read Braille, what's your superpower" Shirt – $23.99 –
I love the message on this shirt.  I think people who can read Braille do have a superpower.
"I love Braille" t-shirt with braille dots  – $14.95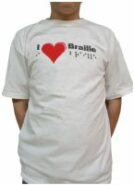 Show your love for all things Braille with this t-shirt.
The Braille Bookstore also has chocolate molds for $4.95 with message like "Merry Christmas," "Happy New Year," "Thank You," and "Have a Nice Day"  The link is here for the molds.
Two Blind Brothers t-shirt with NY Skyline – $35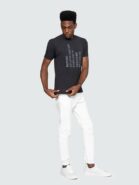 This t-shirt features buildings in the shape of New York's skyline with Braille running sideways highlighting the different boroughs reading Queens, Staten Island, Manhattan, Brooklyn, and the Bronx.
Bradford and Bryan Manning, brothers who are losing their sight to Stargardt disease, formed Two Blind Brothers where 100% of profits go towards preclinical research for retinal eye disease.  These t-shirts have super soft fabric, highlight Braille on their tags and their graphic tees, and are sewn by Dallas Lighthouse for the Blind.
GAMES & TOYS
Dominoes – Raised Dots  $13.95
These dominoes are not in Braille, but they have raised dots instead of just a smooth surface.
Braille Bingo Cards – $9.95
Independent Living Aids sells these plastic Braille bingo cards which come with yellow chips.  The black numbers on white are also easy to read.  This company sells many items for people with vision impairments, hearing impairments, and other disabilities.
Braille Alphabet Squares – $29.99

These alphabet squares have Braille on both sides.  One side has the upper case letter and the other side has a lower case letter.  The one complaint I saw on the reviews was that the Braille is larger than standard Braille.    The letter on each is indented so can be traced by small fingers.
We are fortunate in North Dakota where we have two stores whose focus is on low vision products.
The Store at ND Vision Services/School for the Blind in Grand Forks
https://www.ndvisionservices.com/store
Phone number: 800-421-1181
Address: 500 Stanford Road    Grand Forks, ND 58203
The Store has playing cards, games, bingo cards, large print address books, talking thermometer, talking clocks and watches, signature guides, magnifiers, monoculars, canes, sunglasses with different tints, etc.
Low Vision Store in Mandan
http://www.lowvisionnd.com/
Phone number: 701-214-4785
Address:  3801 Memorial Hwy  Mandan, ND 58554
The Low Vision Store in Mandan is located in a strip mall along the Memorial Highway.  The store's owners, Kevin Vannett and Dennis Baumgartner, developed the store to help those in the community who have vision impairments.  They have videomagnifiers, daily living assistive technology, clocks and watches, canes, glass magnifiers, writing aids, lighted reading glasses, sunglasses, and more.
Happy Shopping and Merry Christmas!