Since my August blog post on the V.ALRT wearable personal emergency alerting device, our office has purchased the device for both the equipment demonstration and short-term equipment trial programs.
We were very eager and excited to try out the V.ALRT once it arrived.  I, along with my other 2 co-workers, did several tests with the V.ALRT. Most importantly, we wanted to see what messages our smartphones would receive from the V.ALERT while the device was in the office and while it was out of the office.
Set Up Process
The V.ALRT comes in a small box that includes pictures and lots of information about the device on it.  It also includes a small quick start guide and accessories (pendant and wrist band).
Once I installed and launched the V.ALRT app onto my smartphone (Android) it was followed by an easy step-by-step setup process.
I first needed to enter my personal information: my name and cell phone number.  I am unsure as to why it asks for the cell phone number as notification text message does not come from your cell phone number but rather from an unknown number.
After personal information was entered, the next step was to enter up to 3 contacts who will be sent the customized text message & GPS location.  This was done by taking current contacts that are already saved in your phone.  You cannot manually add a name and cell phone number; it must come from your phone's current contacts that have a cell phone number associated with the individual.  It is important to be sure the contact you choose can receive text messages.
Next, you will create an alert message. Here is where you enter a standard message which is sent out to contacts once the V.ALRT is activated.  I typed in, "Tami needs help from V.ALRT".  Whatever message is chosen, I would recommend including your name because the notification does not show it coming from your cell phone number.
The last step asks you to pair the V.ALERT to your cellphone via Bluetooth to initiate the operation of the device.
After complete set up is done, it will ask to send a test.  I would definitely recommend doing this step so your contacts see how this notification looks if it is ever utilized.  Plus, this will allow your contact to save and label the unknown number it came from as V.ALRT.  For example, my trials were from a (419) 800-0998 number.  Before this personal emergency alert device is even set up, I would contact the individuals to explain the device, how it works, and let them know a test text will come to them when set-up of the V.ALRT is done.
Options Within the App
The V.ALRT app Home Screen allows for personal preferences to be set up.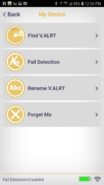 My Device is where you locate options for Find Alert, Rename your V.ALRT, or Fall Detection.  If you have misplaced your V.ALRT, you have the ability to go under Find Alert.  This will trigger the V.ALRT to make an alarm sound plus flash a red background light.  When I did trial this feature, the alarm was not very loud.  So if this is left in a bag, coat pocket, etc. one will never be able to hear it.
The Fall Detection option is where you can enable fall detection.  If the fall detection is enabled in the app, a fall will give the wearer 60 seconds on the phone to cancel before activating the notification.  When testing this function it was consistent, even when falling onto a couch.
My Settings is where to edit your personal information, your contacts, or your message as well as the option for tracking your V.ALRT.  The tracker allows you to enable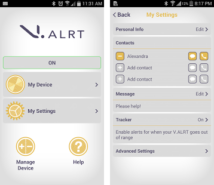 alerts for when your V.ALRT goes out of range from your smartphone.  When I tried this feature indoors, it consistently went off after approximately 70 feet of walking away from my smartphone or the V.ALRT.  Under the Advanced Settings one is able to choose the Alert Sound your smartphone will alarm once the V.ALRT is activated, or a Silent Mode can be enabled if a person wants to be discreet when pressing the V.ALRT.  The alert sound from the phone is very loud, creating a panic sound that will definitely draw people's attention!
Final Thoughts
Things I Like
Small, discreet and lightweight.
Easy to set-up.
Easy to push if an emergency would strike.
Requires a 2-4 second hold to initiate to avoid accidental activation.
Text message sent immediately followed with estimated location text.
Estimated location was easy to read that included best route to take.
V.ALRT app shows the battery and Bluetooth quality for the device when you go into options from home screen.
No charging needed, powered by a standard CR2032 watch battery for up to one year of battery life.
 Things to Improve
Besides the V.ALRT sending a text, it also makes calls one-by-one to each of the emergency contacts (starting from the first contact). The phone automatically goes into speaker mode.  With all of our trials, this function seemed to be hard for the emergency contact and the individual to actually hear one another, especially if the phone was farther away from the user.
Also, with the calling feature, if the first contact did not pick up it took a long time to call the next phone number. With the first call that did not pick up, it went to voicemail then took time for it to end that call before going onto the next call.
Limited to population who do have a smartphone.
Even with some of the few things to be aware of when using the V.ALRT such as keeping the phone and device connected and in range and the few other items, I still think it's worth $39.99 with no monthly payments.
When determining what type of personal emergency alert device will work for you, one must think about what the safety needs are and the limitations that may come into play.