Here at ND Assistive, we have administered the specialized phone program, the Telecommunications Equipment Distribution Service (TEDS), for the State of North Dakota since 2003.  Through the TEDS program, we are able to provide qualifying North Dakota residents who have a severe hearing, speech, p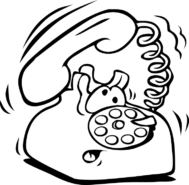 hysical, or vision impairment with free, specialized phone equipment.
The range of phone equipment available for hearing loss through this program has expanded tremendously over the last 15 years, from standard TTYs and amplified, corded (desk-style) landline phones to touch-screen captioned phones; cell phone amplifiers; or amplified Bluetooth-enabled cordless phones with tone control, talk-back buttons, and slow talk features; etc.
The goal of the TEDS program is to find the right phone that has the right features for each client's needs so they are able to successfully use the phone to speak with their families, schedule doctor appointments, order flowers for their sweetheart, etc.
One way we do this is by having a conversation with our clients about which features they might want in a phone. Do they want caller id? An answering machine? Portability?  We then make an inventory of the features they need: landline or cell phone connectivity, level of amplification, captioning, tone control, slow talk, speakerphone, large buttons, photo dialing options, etc.
After we have our list, we take those features and compare them to the phones available.  An easy way we do this is by referencing our Amplified Phone Matrix 10-2018.  This matrix compares and contrasts the features of the landline-style amplified phones we use most frequently with our TEDS program clients.
To use the matrix:
Click on the link to open the accessible Excel document.
Determine which sheet you would like to look at:
1st sheet: cordless (portable) phones
2nd sheet: corded (desk-style) phones
3rd sheet: corded (desk-style) phones that have photo dialing capability
Compare and contrast the features to see which phone meets your needs and wants.
Click on the name of a phone to be directed to that product's page on the manufacturer's website.
Please note: This is not an exhaustive list of all of the amplified phones currently on the market.  All of the phones featured on the matrixes were available as of the date of publication.
The TEDS program is also able to provide captioning phones, TTYs, cell phone amplifiers, in-line phone amplifiers, and ring signalers to individuals who are deaf or who have severe hearing impairments.  Our staff will work with you to ensure you are provided with the right equipment for your needs.
If you are a North Dakota resident who is in need of a specialized phone for hearing loss, please complete the application for the TEDS program available here.
If you are not a North Dakota resident, please visit http://tedpa.org/resources/ to find your state's program. Please note that the each state's specialized phone program has its own eligibility requirements and parameters for the phone equipment it provides.
If you are a North Dakota resident who has a significant hearing loss and a significant vision loss and are in need of a specialized phone, please complete the North Dakota application for iCanConnect: The Deaf-Blind Equipment Distribution Service available here.