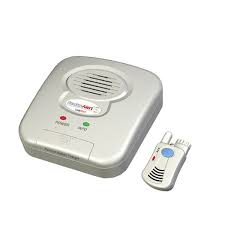 What is it? The Freedom Alert is a two-way emergency communicator. With a push of a button on the  wearable pendant, users can talk directly to relatives, neighbors, friends or a 911 operator to get emergency help.
How does it work? By pushing the pendant button, the pendant sends a signal to the base unit, with the base unit making the phone call. The two-way programmable system allows you to call preprogrammed contacts. After the call is answered the user is able to talk to the other party by way of the pendant. The Freedom Alert is set up with an in-line connection from the telephone wall jack to the Freedom Alert and then connecting to the phone.
Why should you use it? The Freedom Alert allows individuals to live safely in their home by having peace of mind for themselves, friends and family that they will be able to call in case of an emergency.
Positive Features:
One time cost. Once the device is paid for their is no monthly service charge.
Easy to set up
Pendant to base station range of approximately 600 feet
Ability to manually test the product to make sure it is working without having to make an emergency call.
Negative Features:
It is not automatically tested on a weekly or monthly basis to make sure it is working correctly. This isn't necessarily a negative about the Freedom Alert but some contract based devices (think Lifeline) provide this type of service.