Last Summer at Camp Grassick I was introduced to Mickey Teubner.  He had recently moved back to North Dakota and was attending ND Association of the Blind's weeklong camp.  I soon learned that Mickey who is blind is very computer savvy and was looking for a refreshable Braille device. I told him about one of ND Assistive's funding programs, the Possibilities Grant fund and advised him to apply for the Orbit Reader 20 sold by the American Printing House for the Blind.
Mickey received the Orbit Reader 20 and below is a video of him explaining the virtues of the device.
Mickey was so grateful and thrilled with the device, he wrote the following article for The NDAB Promoter newsletter.
 "Braille? In the 21st Century?
Sounds old school, right? Well, I think back to the days when I first started learning Braille, way back in the late 1960s when you used flash cards, and yes, bulky Braille books that took up an entire bookshelf.
Times have certainly changed; now people use hand-held devices that literally fit in your pocket or a back-pack that produces Braille electronically.
On Thursday, December 13th, I received an early Christmas present when a package showed up at my door that morning. Not knowing at first where and whom the package came from, I asked the UPS driver if he could read the label on the box and it said "Sent from APH (aka American Printing House for the Blind)". So I went back into my apartment and slowly opened the box, and there it was, the Orbit Reader 20 from APH!
I've always wanted a Braille display ever since I got started into using the computer. It's totally amazing just what you can do with this device. You can use it as a standalone reading machine where you can read electronic Braille books or magazines, or you can connect via computers USB or Bluetooth.
As for me, this device has totally replaced my Bluetooth keyboard and I use the device all of the time!
In closing, I want to thank Beth Bakke Stenehjem and ND Assistive for all they do for us as blind and visually impaired people. Beth certainly went to bat for me as far as helping me obtain this great device through the Possibilities Grant program.
Thanks so very much.
Mickey Teubner"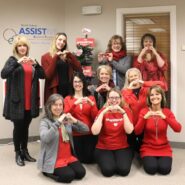 What is the Possibilities Grant?
Individuals who are impacted by a disability and/or aging often have assistive technology needs and expenses that are above and beyond what insurance and other funding programs will cover. This is where the Possibilities Grant steps in. With the funds raised, ND Assistive has been able to help eligible applicants purchase vision and hearing equipment, computer access tools, vehicle modifications, and communication devices. This program is intended to be a last resort, and cannot supplant other public funding avenues (e.g., vocational rehabilitation or public schools).  Money raised during Giving Hearts Day is the main source of funding for this program.
Please remember ND Assistive on Giving Hearts Day.  Every dollar you give to this cause will go towards equipment and training for applicants.  Giving Hearts Day Website