iReadWrite is the latest assistive technology app available from Texthelp. The company is best known for Read and Write Gold, a software package used for a variety learning disabilities to include aids to help with reading, writing, and research. iReadWrite is an application that aids in reading and writing skills for the iPad.
The following is a listing of features and thoughts about this app to hopefully give you an idea of the features it has and who it may be beneficial for. For those of you not necessarily interested in all the features, you can skip to the bottom section for overall thoughts.
Uploading documents
 Texthelp states that documents can be uploaded from simple text editors like Arrow Note and also from Dropbox. Of the simple text editors that I used (Arrow Note, Notesy, PlainText) document transfer only worked in Arrow Note. Dropbox worked as well, but only for txt files, no word documents. The other option for uploading is to copy and paste text from another app into iReadWrite.

     Reading  
Straightforward use. Play to start reading, stop button to stop. If the cursor has been placed in the document or a word is selected the program will begin reading from that spot. Reading will begin from the top if nothing is selected.
Voice Options- two female and one male

The voices are ok but still have the computer feel. For those of you accustomed to the Siri voice, Samantha is very similar.
There is no option to change the speaking rate

There is a setting for continuous reading to read until the end of the document or have the text read by sentence.

The reading works with out WiFi

     Writing
Word prediction works very well with the option to have a suggested word spoken and defined.
A swipe or double tap of the suggested word places it into the body of the text
Spell check identifies misspelled words and sounds like words with the ability to color code each type
Voice dictation does not work without WiFi

     Undo and Forward Buttons
These buttons work very well to move back and forth between edits
*Instructors*- The back button will show you the exact placement of words. If the user typed the entire word out, you will see each letter placed. If the user placed a predicted word, when going back you will see the word erased. Also shows if the user started spelling the word and then placed a predicted word. I see this as being beneficial for instructors to see step-by-step how an individual is processing and not only that prediction is being used but also when.

     Exporting text and documents
Options for exporting include email, messages, twitter, facebook, and also copy to be pasted in another place

     Settings
Many settings to choose from (click pictures to enlarge) with no limits on the choice of colors
 Font and font size are easily modified with several choices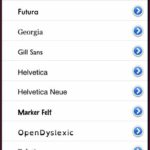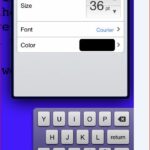 Accessibility
No tests were done with iOS accessibility features. For those of you interested and would like to put iReadWrite through the tests, I think we would all like to know the results.
Overall Thoughts
This is a good app for someone that already has access to an iPad and is comfortable with using the interface and needs some basic help with document, email, or message text creation and editing. One feature that is really nice is that the app can be used with no WiFi  or data access. Those that it may benefit are individuals who need assistance with word recognition, homophones, word meanings, and auditory and visual processing. For more information on iReadWrite check out the Texthelp website: http://www.texthelp.com/north-america/ireadwrite/  If you are looking for other Texthelp products to help individuals check out the review of Read and Write Web apps done by Jeannie Krull: http://ndipat.org/blog/use-google-docs-get-free-text-to-speech/