Many individuals of all ages require some type of Medical Alert Systems that can alert friends, family, caregivers or even local emergency services outside the home when they need help.
But what if an individual can't use their hands to press a button, requiring a switch adapted Medical Alert System?
Through this blog I will share 2 systems where I found switch adapted options to allow a person with very limited movement to activate a Medical Alert System.
Responsible Alert System – Ablenet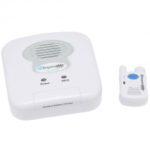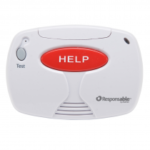 Works with landline connection.
Requires only one time cost. Once the device is paid for there is no monthly service charge.  The base system retails for $355.  The switch–accessible wall mount retails for $170.  A switch can cost anywhere from $50 and up.
Allows to program up to 4 numbers to be reached plus 911 emergency operator.
Has two-way cordless speaker phone capability – not simply a call for help.
Answers incoming phone calls.
Is to be used with Responsable Switch-Accessible Wall Mount
Includes a built-in test button to check battery and connection to base.
Works with landline or wireless connection.
Requires pay-by-the-month plans with no penalty for cancelling. If services cancelled, a prepaid shipping label is provided to send equipment back.
Has no contract, just month-month rental of equipment. Cost is $29.95/month for landline and $41.95/month for wireless.
Allows for two-way voice communication with 24/7 monitoring Philips Response Center. A response associate can contact a friend, neighbor or family members, or emergency services.
Includes a built-in battery backup system and automatic self-testing.