At ASSISTIVE, we get many requests from individuals wanting to use their tablet or smartphone in bed without having to hold it.  For some people I have worked with recently, the LEVO G2 Deluxe Tablet Stand has been the solution.  This stand is on a 20 pound cast iron base with wheels and is height adjustable from 30″ to 56″.  Once at the right height for the person, the LEVO Stand with it's 5 Axis Swing arm and swivel head, can easily adjust to many different positions, so a person can get comfortable-see picture below. It can then swing out of the way with just a push (if not locked).  If you need to lock the arm sections in place, you can use a coin to tighten the joints.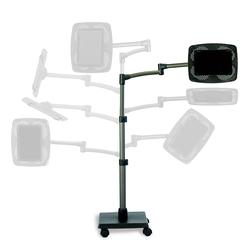 I have used the stand with devices as small as an iPhone to as large as the iPad Pro 12.9″.  To attach the devices, I have used the included straps, as well as, Dual Lock to really secure the device.
For some people who use a wheelchair, this LEVO G2 Tablet Stand could also be a substitute for a device mount.  With its sturdy base and wheels, it can easily move from room to room accommodating an individual all over a school, workplace or at home.
Did I Say Power?
Yah I did! This Stand comes in a powered version with a 2.1 amp USB port right on the arm of the swivel head, so cords are kept at a minimum.  There is also a version with a rechargeable battery pack.
What I like
Easy adjusting height
Heavy Cast iron base, which gives it the ability to hold the iPad Pro 12.9″ Tablet
WHEELS!
What I Wish for In the Future
An onboard mechanism to lock the arm sections without having to use a coin.
Want to See it in Action?
If you would like to see if this stand would work for you, please contact us for an appointment at our Fargo or Mandan Centers at 1-800-895-4728 or info@ndassistive.org.