The ODIN VI is a talking cell phone designed specifically to be 100%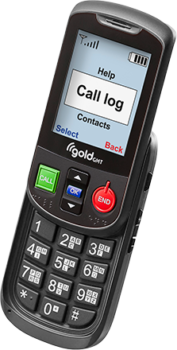 accessible to the blind. The makers of ODIN VI were kind enough to send a demo version to IPAT, we checked it out, and picked out a few pros and cons!
What We Liked
Below the 2.25″ screen are four buttons. A square-shaped, green button with Call is on the left side. In the middle, there are three buttons: an up arrow, an OK button, and down arrow. These button are in vertical succession. On the right is a circular, red button with End on it. This simple design creates ease of use and is also accompanied with braille below the Call and End buttons.
Upon sliding up the top-portion of the phone, the time is announced. It is here where the large, separated buttons appear. There are tactile marks on the number five along with the asterisk and pound buttons.
Accessing the menu is easy with a simple push of the OK button. The following is located within the menu: Call Log, Contacts, Messages, Settings, Alarms, Help. Each option may be selected by pressing the OK button.
The best feature of the ODIN VI is that it speaks everything on the screen. For instance, when navigating through the menu, each option is announced. While putting in contacts, the numbers, letters, and eventually the full name is spoken. To repeat a whole number or set of words, simply push the top button located on the right-side of the phone. This option is especially useful when texting.
What We Didn't Like
Although the phone comes with a nice charging station, the USB cover on the side is difficult to open. A careful fingernail or small device is needed to access the USB charging port. Also, while typing names within the Add Contacts, the phone was unable to "keep up" with text entered at a significant speed. For instance, typing John would return with "J-G-N".
Overall, the ODIN VI phone can be very beneficial to those people who are blind. It's design and ease of navigation make it a great product for anyone looking for a simple phone.