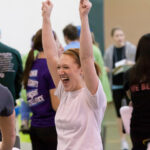 February 9, 2013 marked the 3rd annual Pedaling for Possibilities fundraiser, and once again a new record for dollars raised was achieved… $27,800!!
The riders, donors, and sponsors that attended the event can attest to the spirit and passion that has driven Pedaling for Possibilities to be the success it is today.
Visit Facebook for the 2013 Pedaling for Possibilities picture album and tag yourself and friends to let everyone know the good that you're doing, and check back regularly for stories on Pedaling for Possibilities recipients. You'll be inspired to work even harder for next year's event, which plans to be bigger, better, and help even more people!