Now that coronavirus (COVID-19) is spreading among communities here in ND, we have been advised to take social distancing/isolation measures by avoiding gatherings with friends & outside family. This, unfortunately, includes no contact visits with those that reside in retirement or long-term care facilities, etc.
This adjustment to limit social interactions is not easy for anyone.  Wireless (tablets, smart phones and lap tops) technology is now supporting and streamlining our day-to-day activities and interactions during this pandemic for schools, businesses, and between friends and family.
Without the COVID-19 present, we already knew a percentage of our seniors had daily challenges with loneliness and isolation.  Wireless technology can deliver effective solutions against the loneliness and isolation which affect individuals as they age.  However, older individuals are less likely to be connected with wireless type technology due to age-related and technology related barriers.  For older adults, technology can be complex and they may be frustrated by the lack of instruction and guidance.
I want to share with you the GrandPad by Consumer Cellular that recognizes that older users may have little or no previous exposure to using smartphones or tablets.
Consumer Cellular designed the GrandPad specifically for users over the age of 75. This simplified computer tablet was designed to help keep older individuals in touch with all the people and activities important to them.  The best part of this tablet is it requires no typing, creates a safe private network and provides extensive customer support!
A couple weeks ago I attended a webinar that was given by Patrick Trank from Consumer Cellular.  Here is the excellent information that he provided us.  Check it out!
The GrandPad is Safe, Simple and Secure
Safe – A family member can be named the administrator to set this up for the user and manage it through a web portal or smartphone app. Only people who the user/administer invites to join the "family circle" or trusted contacts can contact the user through the GrandPad.  This means the user will not get sales calls or spam emails.  They will only receive photos, emails, calls and videos from friends and family who they entered into the family circle.
Simple – Ready to use large buttons/applications to see and navigate.
Secure – The features on the GrandPad are web-based but there is not a web browser. So, this means there is no worries about scams, viruses or other internet related concerns.
GrandPad Buttons Include:
Call Button – Allows user to easily voice or video call their approved family circle contacts by tapping a picture.  It will also allow them to make outgoing calls via the dial pad.  However, they can't be called back unless it is from members from the family circle.
Email Button – All emails can only be received from and sent to those in the trusted contacts.  The user easily sends an email and text messages by voice memo (There's no typing!).
Photos Button – Photos that are taken or received from family contacts are stored here.  When sending a photo, the user can choose to send it to a single person or the whole family circle.
Music Button – This has endless stations for the user to listen to.  The user can build a custom library of their favorite songs and artists.  It does cost to create a library; however, the first 50 songs are free.
Weather Button – Users can view a 5-day forecast of the weather for their location as well as the weather for their contacts.
Games Button – This is a great way for users to keep their cognitive skills sharp.  Some games are for a single player, and there are some that allow for multiple players who are in the same room.
Camera Button – Allows users to take a picture that will be saved on the GrandPad as well as share with the family circle.  There is both a front and back camera.
Articles Button – Located here are custom created articles that are senior friendly that offer a variety of topics.
Lookup Button – Users can have access to an Encyclopedia and Dictionary without having access to the internet.
Toolbox Button – Here users have access to a magnifying glass and flashlight.
Help Button – This is where users can quickly get Customer Service.  Training videos on different functions of the GrandPad can also be found here.
Transportation Button – This is an option for the family administrator to set up to arrange for a ride from Lyft.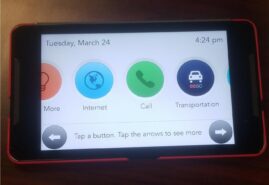 Other Great Features:
The smart case turns off the screen when not in use.
No wires to charge.  Sets in a charging cradle.
Automatically begins a photo slide show in charger.
GrandPad can send alerts and messages for important events.
Can notify family administrator if the device has not been in use.
Uses AT&T and T-Mobile towers.  (Make sure your area is covered by these carriers.)
**ND Assistive has one GrandPad in each of their offices and can provide demonstrations of the GrandPad for you to see before you buy.
The GrandPad service is provided through Consumer Cellular for $40/month and requires no contract. You get unlimited data use, unlimited ad free streaming music, and unlimited video calling.  The tablet is an additional $250 ($10/mo. is an option).  Sign up for GrandPad and receive a special $10 referral credit by mentioning code 971-329-5103.  Special Benefits are also offered for AARP members.
Perhaps the GrandPad might be the answer for many families during these crazy COVID-19 pandemic times to stay in touch with some of their older age loved ones.
**Please note: At this time, ND Assistive has suspended any in-person contact demonstrations with clients to protect our clients and employees.  In the meantime, we would be happy to set up a demonstration via video call.  Or call Consumer Cellular at (888)529-2399.