The North Dakota Telecommunications Equipment Distribution Service (TEDS) is designed to provide free specialized telephones and accessories to ND residents with severe hearing, vision, speech, cognitive or physical disabilities who have difficulty using standard telephones and who qualify financially.
Communication on the phone is an essential tool for routine daily activities.  For persons who may have a memory, cognitive or learning disability, standard phones purchased from Target, Walmart, etc. can create barriers and challenges for these individuals to use.
Here is just a sampling of specialized telephone devices for people with difficulty learning or remembering.  Please note: This is not an exhaustive list of all of the specialized phones for learning and cognitive disabilities currently on the market.
PHOTO DIALING
Identify the picture of the person the individual wants to call rather than having to remember and input a long telephone number.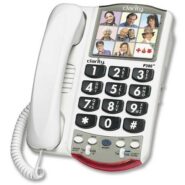 Features 9 memory photo-frame buttons for one-touch dialing
Includes large dial pad
Flashes a visual ring alert
Amplifies incoming sound up to 18dB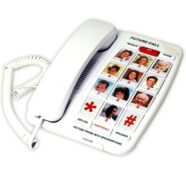 10 memory photo-frame buttons for one-touch dialing
Option for speakerphone use with 4 volume settings
Amplifies incoming sound up to 40dB
3. Picture Trim Line Corded Phone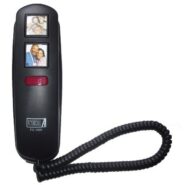 Amplifies incoming sound up to 40db
2 Picture Memory Keys & 911 Key
Visual ringer on handset
Desk or wall mountable
Line powered: Does NOT require AC power or batteries
4. Photo Dialer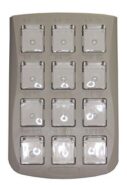 Connects to any analogue phone
12 big memory buttons that can be used for a personal photo ID or place a name on each button
Memory buttons are 1" X 1"
5. Foto Dialer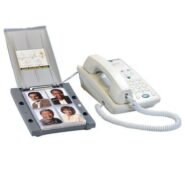 Connects to any analogue phone
There are six pages with four picture slots per page
Provides up to 24 photo buttons for one-touch dialing
Holds 2" x 3" wallet sized pictures
BIG BUTTONS
Large number buttons make it easier to see what numbers one is dialing.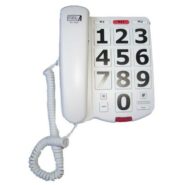 Big buttons for easy dialing
2 Speed dial buttons
Amplifies incoming sound up to 40dB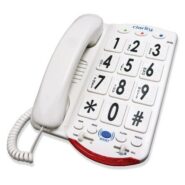 Big Buttons for easy dialing
3 emergency memory buttons on top of the phone
Can program 10 one-touch memory buttons
Amplifies incoming sound up to 50dB
Loud 95dB visual ringer
SIMPLE ANALOGUE PHONES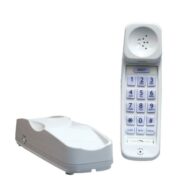 Simple design
Amplifies incoming sound up to 26 dB
Visual ringer on handset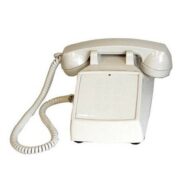 Telephone without dial pad for incoming calls only
For those individuals that randomly dial telephone numbers, make calls at inappropriate times of the night, etc.
This phone does not provide any amount of amplification
* Recommended only for those living in residences where alternative telephones are available for real emergencies.
CALL BLOCKERS
These devices are great additions for those who are vulnerable to scam callers and telemarketing calls.  They work by only allowing certain numbers to come through the landline, and blocking any sales calls, recorded message calls or silent calls.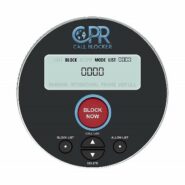 Comes Pre-loaded with 10,000 known Robocall scam numbers
Provides a Two in One Call Blocker with BLOCK LIST and ALLOW LIST
Can block a further 2,000 numbers at a touch of a button
VISUAL RING SIGNALERS
Ring Signalers plug into any phone jack or connect between your phone and wall jack in your home, and when the phone rings these devices will notify individuals with a loud ringer and/or a bright flashing strobe.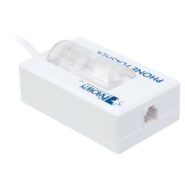 Provides bright strobe light only, no sound provided
Powered by phone line
No batteries required
Lightweight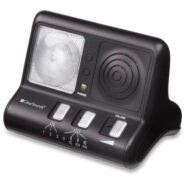 Provides bright strobe light and extra loud ringer
Wall or desk mountable
Tone and volume controls
If you know someone that is a North Dakota resident who is in need of a specialized phone for learning, cognitive and/or memory, please complete the application for the TEDS program available on our website.  ND Assistive staff will work with you to ensure individuals are provided with the right equipment for their needs. 
If you are not a North Dakota resident, please visit http://tedpa.org/resources/ to find your state's program. Please note that the each state's specialized phone program has its own eligibility requirements and parameters for the phone equipment it provides.