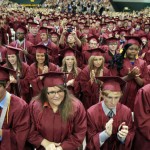 High School graduation is an important milestone in everyone's life. It marks the beginning of adulthood, jobs, and preparation for career choices. For persons with disabilities, exiting high school also means planning for transition and continued assistive technology (AT) use. Under the Individuals with Disabilities Education Act (IDEA), transition services for all students with an IEP begins at the age of 16 years, and AT is a required consideration in the transition planning process.
When a student leaves high school, continued support and funding for AT becomes dependent on adult or community service agencies. School districts are not obligated to relinquish an AT device purchased for and used by a student with a disability. It is for this reason that IPAT has written a booklet to help you understand the ins and outs of AT at transition. It incorporates what the IEP needs to include, laws that support people with disabilities and AT use after IDEA, and the importance of understanding reasonable accommodation in light of AT use and acquisition.
If you desire more information, the Family Center on Technology and Disability has developed a more comprehensive guide. Some of their suggested actions include; identifying resources to facilitate the AT transition process, providing necessary training to integrate AT in the workplace, community, or other post-secondary school setting, and developing a memorandum of understanding between entities for the transfer of AT devices. Research shows that people with disabilities still have difficulty obtaining basic AT accommodations and supports. This remains a fact, even though AT solutions have proven effective in reducing or eliminating barriers that interfere with access to equal opportunities. Transition planning for AT helps to reduce or eliminate this barrier.
If you want to finish high school prepared for success, make sure that the transition of AT is part of your planning. We know it plays an important role in helping individuals with disabilities achieve in adult life, so don't sell yourself short by not planning for it.  If you need help making AT at transition happen, contact IPAT for ideas.