Medical identification (ID) bracelets can be one of the most important items worn for those who have ongoing medical conditions, drug/food allergies, or take multiple medicines.  Medical IDs can alert healthcare workers, emergency personnel, doctors or friends/family to critical and personal information, especially in the event one becomes unresponsive.
Medical ID bracelets come in many varieties and price ranges, that virtually anyone's needs and preferences can be accommodated. Now the industry is using USB medical ID bracelets to store vital health information.
One company to carry these USB medical ID bracelets is EPIC-id.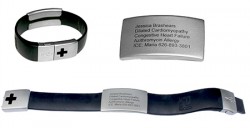 EPIC-id is a bracelet with a flash drive that carries health and identifying information in case of an emergency. Simply load medical information in the pre-made templates and anyone with a computer can access it.
EPIC-id USB Emergency ID Features Include:
PC/MAC Compatible (MAC OS 10.7 or later; Window XP, 7 or later).
No software to download or no subscriptions to pay.
Digital emergency forms are pre-loaded making it simple to input personal medical information and make updates.
No internet connection required.
One size fits all – adjustable band fits to any adult wrist.
Silicone Band with durable stainless steel clasp with dual release buttons.
Waterproof/Saltwater safe USB.
RECOMMENDED – Comes with the ability to add a custom ID tag (up to 5 lines) to include important information that is not going to change (name, allergies, emergency contact and phone number).
USB medical ID bracelets can be a simple and effective alternative to basic medical ID tags, as it can store files of medical history in a tiny chip.  Keep all your medical information close to hand with USB medical ID bracelets.
Both ND Assistive Centers have a couple different styles of USB medical ID bracelets to demonstrate and can be rented through our equipment rental program.  If you would like to see one of them, contact Assistive at 1-800-895-4728 or email info@ndassistive.org.