What if an individual wants to make a phone call but…
their voice is too weak or inconsistent for voice control,
they do not have enough physical control or strength to interact with a smartphone, tablet or adaptive landline telephone,
and they have slow response due to visual limitations(so using switch control on a device like an iPad is not a viable option)?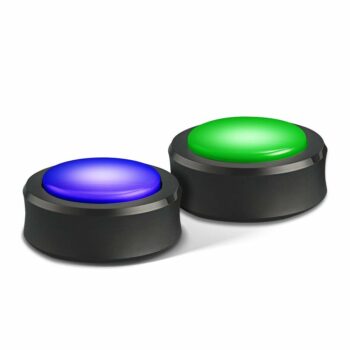 Echo Buttons
Echo Buttons are designed to provide physical interaction with Alexa devices like the Echo, Echo Dot, and Echo Show. Echo Buttons are most commonly used to play games and control smart home routines.
Echo Button Provides One Touch Calls
With a little ingenuity, an Echo Button can be used to make a phone call. Here's how.
You Will Need
How to Use the Echo Button to Make Calls
Pair your Echo Button with your Echo device. How to Connect Alexa Gadgets to Your Echo Device.
Be sure your smartphone or tablet will respond to Amazon Alexa's voice. Regardless of whether or not you're using a device with Hey Siri, Okay Google, or another voice assistant, it will need to respond to Alexa's commands. There are several ways to do this. Everyone's situation is different, so I won't go into detail on how to do this with specific devices. (Email me if you have a question, tfloyd@ndassistive.org)
Create a routine. Through the Amazon Alexa app create a routine that when an Echo Button is pressed, Alexa says a phrase. For example, if you want Alexa to command a FaceTime call your routine will go something like this: When Echo Button is pressed Alexa will say, "Hey Siri. Facetime. Trish."
What to Expect
You can only pair up to 4 Echo Buttons.
The Echo Buttons take some strength to push. I would not consider them light-touch buttons.
The individual needs to be able to press and release the Echo Buttons.
You will need to decide where you want to place the Echo Buttons.
It is crucial the device making the call understands Alexa's commands. This part of the process takes the most time and patience. Expect to troubleshoot! 🙂