What does a person who is hard of hearing or deaf do when he is pulled over by a police officer? A few years ago, the staff of the ND School for the Deaf/Resource Center for Deaf and Hard of Hearing (NDSD) decided to assist both police officers and those with hearing loss in this situation. With financial assistance from the Friends of Deaf and Hard of Hearing Foundation, NDSD purchased visor cards with the goal of bridging the initial gap with the police and the person with hearing loss.  It can help quickly identify that the person may not hear/understand orders and instructions.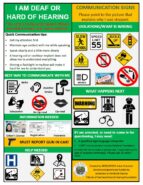 Along with the visor cards, NDSD also decided to offer training for law enforcement agencies around the state. The training consisted of supplying basic information about hearing loss, information concerning Americans with Disabilities Act (ADA) and ND Century code and how the agencies can help meet the requirements through the visor card or personal amplifiers or other modes of communication, information about Deaf Culture and the requirements of interpreters, and an explanation of how to use applications that are available on cell phones that could be helpful.
If you or someone you know is in need of a visor card, please contact Pam Smith at 701-665-4401 or email her at pam.smith@k12.nd.us.
While I hope that you don't get pulled over by law enforcement in the near future, you might want to have a visor card on hand if you have a hearing loss.