Voting Basics for the Primary Election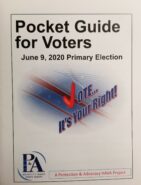 By now you should have received an application to vote in the primary election in North Dakota. County commissions in all 53 counties around the state have authorized Vote by Mail for the election as a measure to reduce the public risk of exposure during this pandemic. This means that no polling locations will be open for the primary election on June 9.
If you filled out and returned your application, you should also have received your ballot in the mail. If you didn't receive your ballot, contact your County Auditor or go to www.vote.nd.gov to get an application. This completed ballot must be postmarked by June 8, 2020 if you are mailing it or it must be returned to the secure ballot drop box by June 9 at 4 PM. If you are unsure where this box is located in your county, please contact your County Auditor.
Accessible Voting Options (this information was provided by the Protection and Advocacy Project)
Voters with accessibility needs have the opportunity to mark their ballots privately and independently, using the assistive ballot marking device, the ExpressVote.
The ExpresssVote has a variety of accessibility options including audio, large font, color contrast, touch screen input and tactile input to assist voters in marking a ballot. The ExpressVote prints out a scannable, marked ballot which the voter can review. The ballot is then placed in an envelope and dropped in a ballot box with other ballots.
If you or someone you know needs assistance in marking a ballot, call and schedule an appointment with your County Auditor.
UPDATE: Protection and Advocacy (P&A) now has a YouTube Channel!  … and has just produced a new video, Express Vote 101, on how to use the accessible voting machine.  While voting for the June 9th primary is being done by mail-in ballot, the Express Vote is available by making an appointment with your county auditor.  To access this video, along with several others from P&A, click here: https://www.youtube.com/channel/UCH-U5HSEMPhFDJskZTAN-7g
OR type Disability Rights North Dakota – YouTube Channel into your browser.  Please share!  Thank you!
Happy Voting!