We just got a new landline phone system in our office that, at first glance, seems to have a lot of features that could be beneficial to many people. The Vtech phone system (SN5147) I am talking about is an amplified corded/cordless answering system with big buttons and display. It also has three additional devices that will connect to the system: an audio doorbell, SOS pendant, and extension ringer.
First I will describe what I like about the main unit and expansion handsets and then what I thought could be better. Finally, I will describe the additional devices.
WHAT I LIKED:
Set up was easy. The directions in the book are very clear and have pictures to assist with setup.
Base unit will still work even if the power goes out
Memory buttons on the one handset have places for four photos to help someone with low vision or with dementia.
Memory buttons on the base unit have places for eight photos and the buttons are fairly large.
Phone has a smart blocker program where you can decide how to block unwanted callers.
SOS emergency calls can be initiated very easily using the large expansion handset by pressing AUDIO ASSIST/SOS on the right side of the handset for 3 seconds. All other devices will emit a very loud ring for 20 seconds and then the telephone will call the preset SOS numbers in sequence until the call is answered. You can preset up to 5 phone numbers for the telephone to call with a prerecording or a recording that is individual to you. The SOS pendant works the same way.
There is a daily reminder you can set for specific times, once, daily, or at weekdays or weekends. This reminder alarm will ring for 30 seconds or until you press any key on the phone. It will not ring if someone is using the phone.
There is option of 50 dB of amplification.
WHAT COULD BE IMPROVED:
The charging base for the extra handsets are a little tippy.
I wish that a person would be able to talk through the SOS pendant to the person who is called in an emergency.
Additional Devices
SOS Pendant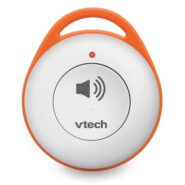 The SOS pendant is a small round device that is a bit bulkier than the alert devices you normally see. It has a big button on the front and a cancel button on the back. When pushed, an alarm will ring to all other devices connected to it such as the base phone and the expansion sets. This alarm is very, very loud. After 20 seconds, the base unit will call the preset SOS numbers. You cannot speak through the pendant to your emergency contact, but they would get a prerecorded message saying you are in trouble. If you are close enough to the base or the expansion handset, you would be able to communicate your need directly.
Expansion Ringer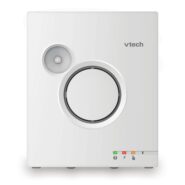 This ringer can be used away from the base or a phone jack. It could be hung by the TV or in the kitchen so that you would be alerted to the phone ringing or the SOS alarm. It is super loud at 90 dB and has a flashing light. It has an AC adapter or it can use AA batteries.
Audio Doorbell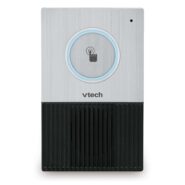 With the audio doorbell you can be alerted on your base unit and handset that someone is ringing the doorbell, and you can have a 2-way conversation with the person at the door through the phone. This uses AA alkaline batteries and can be expandable up to 2 doorbells. You can even divert the doorbell calls to a preset external number if you are going to be away from your home.
If you are in need of a specialized telephone like the one described above, check out our TEDS program. The North Dakota Telecommunications Equipment Distribution Service (TEDS) is designed to provide free specialized telephones and accessories to ND residents with severe hearing, vision, speech, cognitive or physical disabilities who have difficulty using standard telephones and who qualify financially.
If you know someone that is a North Dakota resident who is in need of a specialized phone, please complete the application for the TEDS program available on our website.  ND Assistive staff will work with you to ensure individuals are provided with the right equipment for their needs.
If you are not a North Dakota resident, please visit http://tedpa.org/resources/ to find your state's program. Please note that each state's specialized phone program has its own eligibility requirements and parameters for the phone equipment it provides.