September is World Alzheimer's Month, the international campaign by Alzheimer's Disease International (ADI) to raise awareness of this debilitating disease.
Alzheimer's is an irreversible, progressive brain disorder that slowly destroys memory and thinking skills and, eventually, the ability to carry out the simplest tasks. There is a rapid growth in the number of people living with Alzheimer's. Currently 5.5 million Americans are living with this disease.
At present, someone in the U.S. develops Alzheimer's disease every 66 seconds. It is thought that by the middle of the 21st century, every 33 seconds someone in the U.S. will develop the disease and the total number of people with Alzheimer's disease in the U.S. could rise to as high as 16 million people by 2050.
With these alarming statistics, we need to consider how to help care for those with Alzheimer's and provide support for their caregivers.
Caregivers
Caring for a family member or individual with Alzheimer's disease takes a substantial amount of emotional, financial, and physical toll on the caregiver. About 35 percent of caregivers report that their health has gotten worse due to the demanding responsibilities in tending to an individual with dementia or Alzheimer's.
Devices
Here are a few devices to consider for individuals with dementia or Alzheimer's.
Day Clock with Day and Time
Day clocks are one of the most popular products for people with Alzheimer's and dementia. Time orientation can be a struggle and can lead to anxiety, agitation, wandering and repetitive questions.
Day Clock with the Day and Date has an alarm and reminder features.
Large illuminated display can be seen from all angles up to 20 feet away by users with vision impairments.

$ 38.99  Amazon
Reminder Rosie
Reminder Rosie is your own personal reminding alarm clock.  This voice-activated alarm will remind the user of appointments, medication, and any other reminders. Reminder Rosie displays large 2" LED digital numbers and has the ability to record up to 25 personal reminders in a voice of a loved one.  See How it Works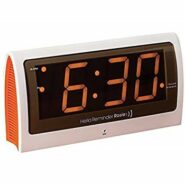 $79.95   Maxi Aids
Photo Phone P300 Amplified Phone by Clarity
With up to 18 decibels of amplification and programmable photo memory buttons, the P300 is an ideal solution for those with mild-to-moderate hearing loss or low vision.
Amplifies incoming sounds up to 18dB
Nine programmable one-touch photo memory buttons
Bright visual ring flasher
75dB adjustable ringer
Illuminated emergency button
Extra large, high contrast buttons
5 mm neck loop jack
Hearing aid compatible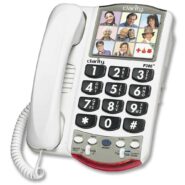 $49.95   Harris Communications
Medical Alert USB Bracelet
This waterproof bracelet features a 2 GB USB capable of holding medical information, emergency contact information, and more.
2GB Medical Alert USB
Saves your Medical Information
Works on any Windows PC or Macintosh Computer
Fully Waterproof Bracelet and USB
Easy Size Adjustable. Fits Wrist Sizes 5.5 to 8.5 Inches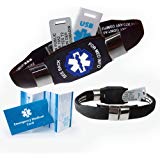 $42.95   Universal Medical Data
Tiles
Find your keys, wallet, phone, purse, or anything with Tile.
Tile is a tiny Bluetooth-enabled tracker and companion app that allows you to locate your items fast. The device comes in three different forms designed to work with all your things:
Tile Slim is as thin as two credit cards so it fits perfectly into a wallet or purse.
Tile Mate and Tile Pro have a convenient hole to attach to your keys or bags.
Attach a Tile to anything you'd hate to lose, and you can always find it fast. This is commonly used to hang one on your keychain or purse. Use the free Tile app to make your Tile devices ring when you're within Bluetooth range, so you can find them by sound. If you're out of Bluetooth range, the Tile app remembers the last place you had your things and even shows you where they are on a map.
This small device could be attached to a jacket, shoelace, or garment worn by a person with dementia who has tendencies to wander and get lost.
Tile Mate and Pro        See How it Works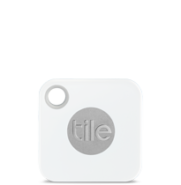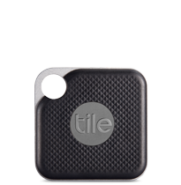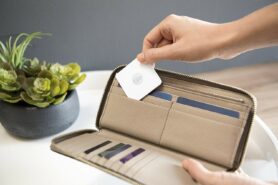 $49.99 (Mate 4-pack)  Amazon
$58.44 (Pro 2-pack)    Amazon
$30.00 (Slim 1-pack)  Amazon
Door Alarm Sensor Kit
Wandering seniors who have Alzheimer's, dementia or other forms of memory loss is the primary fear for any caregiver or family member. The best way to prevent wandering is to be alerted of a door being opened or by motion sensors being triggered that alert the caregiver.
Caregivers receive an audible, visual and vibrating alert when a door opens or motion is detected in a hallway or room. The portable alarm monitor can be clipped on caregiver's clothing, put in a pocket, or set near your side on a table or nightstand. You can set it to ring/buzz/chime, flash and vibrate upon a breach of the monitored doors or areas. The alarm monitor is battery operated and effective within 100-250 feet of the sensors (transmitter) installed on a door, window, cabinet or room/hallway.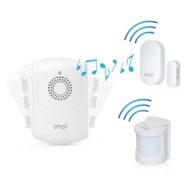 $39.99  The Alzheimer's Store

Fosmon WaveLink 51007HOM Wireless Door Open Chime 
This device is similar to the door alarm above. It is a simple chime to alert you of a door that's been opened.
Offers a detection area of nearly 400 feet to cover every window and door in your house
Pair up to 10 receivers to one door sensor, or 10 door sensors to one receiver
Has 52 unique ringtones and chimes which allow your wireless door and window entry alert system to meet any need
A built-in LED indicator also flashes to provide notification to a person who is hard of hearing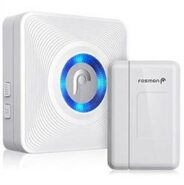 $28.99  Amazon

Conclusion
Almost everyone has known or been affected by someone who has a form of dementia or Alzheimer's and witnessed the challenges involved for their family and caregivers. My father battled the disease for several years before his passing in September of 2012; so every September, World Alzheimer's Month, we commemorate the caring father, grandfather, husband, and person he was. I wish I would have been aware of some of these products which could have made our lives easier.
There are other items that can assist in caring for individuals with dementia. If you are a family member or friend of someone with Alzheimer's, please call us at 1-800-895-4728 or email us info@ndassistive.org for more suggestions.  We are always willing to help you find solutions to caring for your loved ones.
Additionally, if you are over the age of 60 and living in North Dakota, ND Assistive's Senior Safety Program may be able to help you obtain the AT needed to keep your loved ones safely in their homes. Some of the equipment listed above may be available to those who qualify. Please contact our office at 1-800-895-4728 or email us at info@ndassistive.org to start the process or you can download the app on our website. This project is supported by funding from the U.S. Department of Health & Human Services, Administration for Community Living, Administration on Aging, and granted through the North Dakota Department of Human Services, Aging Services Division.