Learning, Cognition, & Developmental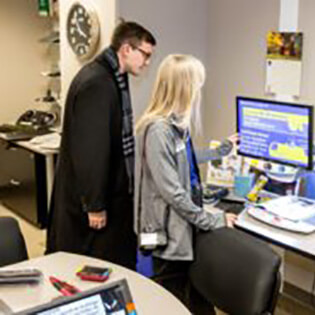 Assistive technology devices and services can solve everyday problems for people with memory loss, traumatic brain injury, learning disabilities, and attention limitations.
We are here to help individuals discover which assistive technology solutions might ease their difficulty in cognitive areas for work, school, and home. We can help individuals with learning, cognition, and developmental disabilities improve their day-to-day interactions with the aid of assistive technology such as:
Text-to-speech software for reading and writing
Recorded textbooks
Voice recognition software for writing
Recording devices for taking notes
Mobile devices for tasks and scheduling
Individuals with Learning, Cognition, and Developmental Disabilities:
Senior Safety Program (Only for ND residents age 60 and older)
AT device training, setup, assessments, consultations, and evaluations. (Call for more detailed information.)
Subscribe To Our Blog Mailing List!
"*" indicates required fields