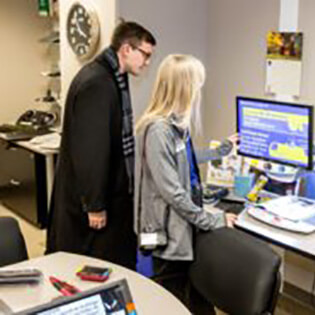 Experiencing low vision or blindness as a result of aging, accident, disease, or genetic condition provides challenges for doing everyday tasks. Routine activities like traveling to work, using a phone, paying bills, and reading need to be done differently with the use of assistive technology (AT) like:
Portable and desktop magnifiers
Text-to-speech software
Mobile technology applications
Screen readers
Talking clocks, watches, scales, books, calculators, GPS, etc.
Individuals with Low Vision or Blindness:
Senior Safety Program (Only for ND residents age 60 and older)
iCanConnect: Deaf-Blind Service (Only for those who are both legally deaf and legally blind)
AT device training, setup, assessments, consultations, and evaluations. (Call for more detailed information.)
Subscribe To Our Blog Mailing List!
"*" indicates required fields