During these cold winter days it is nice to spend them indoors and watch a favorite TV episode, movie or series.  But what if you have a partial hearing loss or maybe your hearing aids just aren't enough to hear the TV?
Missing dialogue, muffled words, or straining to hear are the common complaints of those with a hearing loss when watching TV.  Many people find themselves raising the volume on the TV to a level that others in the same house find difficult to live with.
Good news!  It is possible to hear the TV better and allow the family to enjoy watching the TV together.  There are a number of good TV listening systems on the market to choose from depending on how much you are willing to spend and the type of devices that one finds comfortable to use.
TV listening systems allow individuals to listen to the TV at a volume that's comfortable without disturbing anyone else in the room.  They provide clarity of voice, speech and tone (bass and treble).
Below are just a few TV listening devices for those with hearing loss.
Sennheiser Wireless TV Listening System (RS 135-9) – $129.95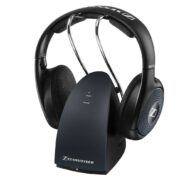 Radio Frequency Wireless headphone system.
Charging dock connects through your TV/sound system RCA.
Volume and tone controls located on headphone.
Provides up to 106 dB of amplification.
Offers reception from up to 330 feet away.
Lightweight and comfortable headphones.
Clarity TL100 Bluetooth TV Listener – $169.95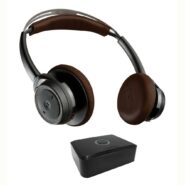 Wirelessly connects to a TV or cell phone by Bluetooth
Offers reception from up to 33 feet away
Comfortable adjusting headband with memory foam cushions
Volume control button on headset as well as take/end calls from cell phone
Serene Innovations Wireless TV Speaker – $129.95
No headset to wear. Sound box has a convenient handle to take the sound with you to your chair or into another room.
Radio Frequency Transmitter/charging dock connects into audio-ports of the TV.
Volume and tone controls located on the sound box and work independently from the TV.
Offers reception from up to 100 feet away.
Headphone jack available to have sound sent to the individual's ears only.
Bellman Maxi Pro TV Listening System – $299.95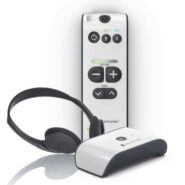 3 Products in 1 – the Maxi Pro TV system is a complete listening tool that connects to your TV, a cell phone amplifier to visit with friends, and a speech amplifier to catch conversation around the dinner table.
Bluetooth enabled to stream programs from your TV or pair/connect with your cell phone.
Listen with included headphones or use a neck loop if you have T-coil hearing aids or cochlear implants.
Provides up to 60dB of amplification.
Not sure what option is best for you? Please give us a call at 800-895-4728 to schedule a demonstration. You can also rent one of these TV Listening devices through ND Assistive's Equipment Rental Program.
Visit us at https://ndassistive.org/