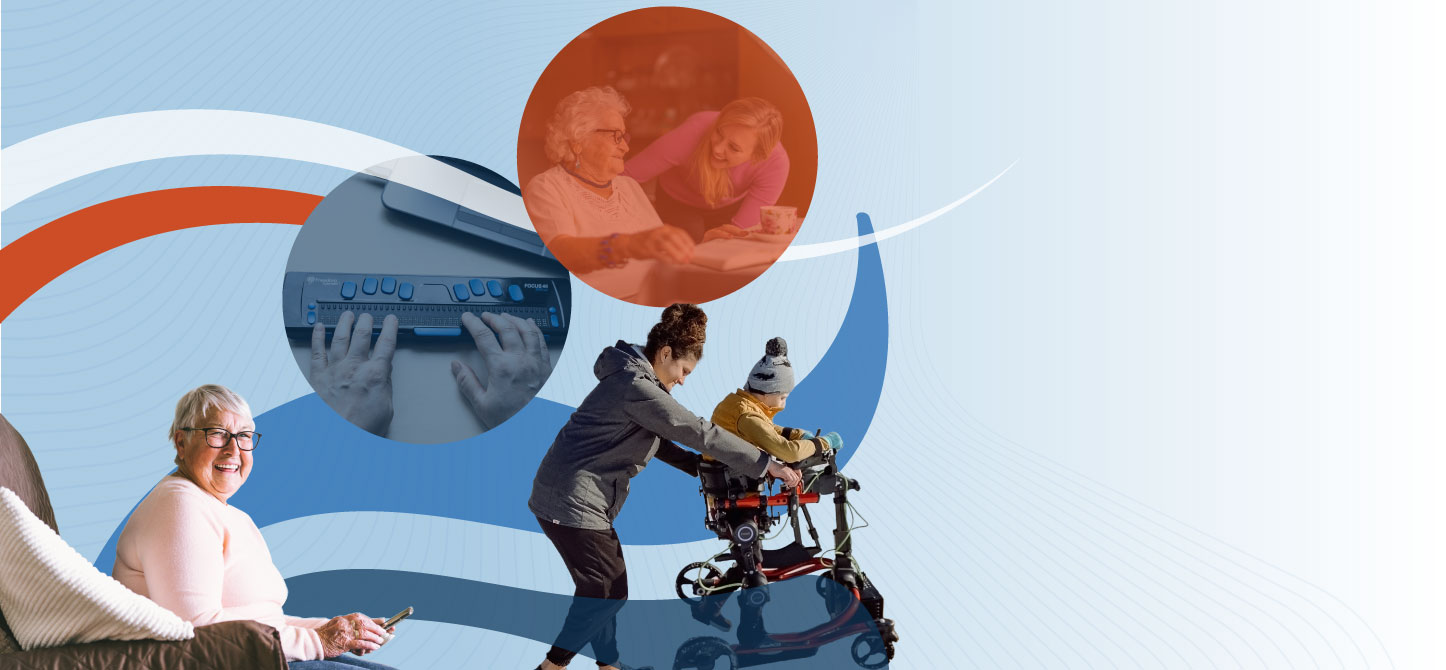 Hope. Independence. Ability. Freedom. Peace of mind.
At North Dakota Assistive, we work with people across North Dakota and Minnesota who are struggling with life's many barriers. Through the power of technology and devices, we are dedicated to paving the way to a brighter future – one where everyone, regardless of age or ability, can realize their full potential.
At ND Assistive, we're not just about gadgets; we're about empowering lives and helping people chase their dreams. We bridge the gap between ability and disability with our optimism-fueled approach to assistive technology. From teachers finding new ways to include students of all abilities in their classrooms, to creating a home that your family will always know you're safe in, our knowledgeable team crafts solutions just for you.
Changing Lives,
One Device
At A Time
Sheryl Found Freedom Through Mobility
"I would like to thank North Dakota Assistive for helping me get my Q-Runner Electric Scooter. I really enjoy driving around back and forth to work. It also gives me my independence to have the freedom to come and go. I use the bus to get back and forth to work in the winter, but I use my scooter all summer long into the fall. It is a two-seater as well, so my husband can ride back there, or I have room to carry my groceries…"
Sheryl Beard, Possibilities Grant Recipient
Delbert Found The Right Fit
"I want you to know, that man is so happy! He can listen to me and watch TV at the same time. Since he's had this, it's probably the first time in the 29 years we've been together, that that has happened. Thank you so much for bringing that to our attention…"
Delbert & Peggy, Short-Term Device Loan Recipients
Rita Found Acceptance and Support
"You made my day, week, month year. I am very grateful for North Dakota Assistive because of you and your coworkers I can see myself differently."
Leo Found Comfort Through Companionship
Leo has Alzheimer's and was looking for a source of companionship. Our team worked with Leo and connected him with an interactive companion cat. Leo treats the cat as a real companion, has it with him the majority of each day, and sleeps better at night because of it. Leo was able to receive his new companion cat through our Possibilities Grant.
Start Your Journey With Assistive Technology Today
Receive A Free Demonstration
Discover The Possibilities
Get In Touch With Our Team Today!
Looking to learn more about assistive technology and what it can do for you? Discover expert-led webinars, training tools, videos, and more.