Short-Term Equipment Trial Program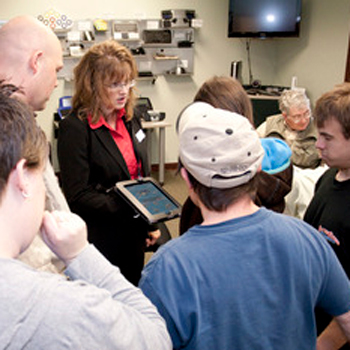 The Short-Term Equipment Trial Program is a service that allows ND and MN residents with disabilities a 6-week trial of assistive technology.
Individuals and professionals that serve people with disabilities may also access the service for their family members or clients.
This program was established so people can:
Try assistive technology before they buy it
Compare assistive technology options
Temporarily replace a device that is being repaired
Provide a temporary accommodation
Learn about assistive technology available to them or their clients
An inventory of equipment available for loan can be found on our ND AT4All website:
Be sure to choose either of the following two programs: ND Assistive Equipment Loan Library Fargo or ND Assistive Equipment Loan Library Bismarck.
If you want to reserve a device for trial, you can create an account and start the trial process or contact us at 800.895.4728 or info@ndassistive.org for assistance.
Short-Term Trial Fees
Effective October 1st, 2020, ND Assistive no longer charges fees to rent assistive technology through our Short-Term Equipment Rental Program.  These six-week equipment trials are now FREE. Arrangements may be made for devices to be picked up from ND Assistive's offices or shipped to the borrower's home.  The borrower is responsible for returning the devices to ND Assistive's offices or paying the shipping fee to have the devices returned via a tracked shipping option (USPS, UPS, FedEx).
Subscribe To Our Blog Mailing List!
"*" indicates required fields