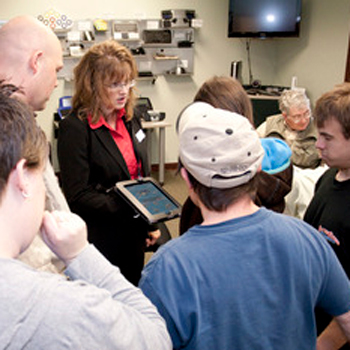 Our goal with our ND Assistive Demonstration Centers, located in Fargo and Bismarck, is to give you access to assistive technology equipment of all types, so you can know your options.
Our demonstration centers are available to people of all ages and abilities. Simply contact us to set up a time to meet with an Assistive Technology Consultant.
We will give you a demonstration of assistive technology devices at no cost to you. We will discuss your needs, find solutions, learn about equipment, try it out, and see what works best for you before you decide next steps such as equipment trial or purchase.
Each demonstration center has a broad range of devices, including equipment and software that can assist in:
Daily life and independence
Augmentative communication
Telecommunication
Vision and hearing
Learning and development
Computer access
Switches
Memory and organization
Recreation and leisure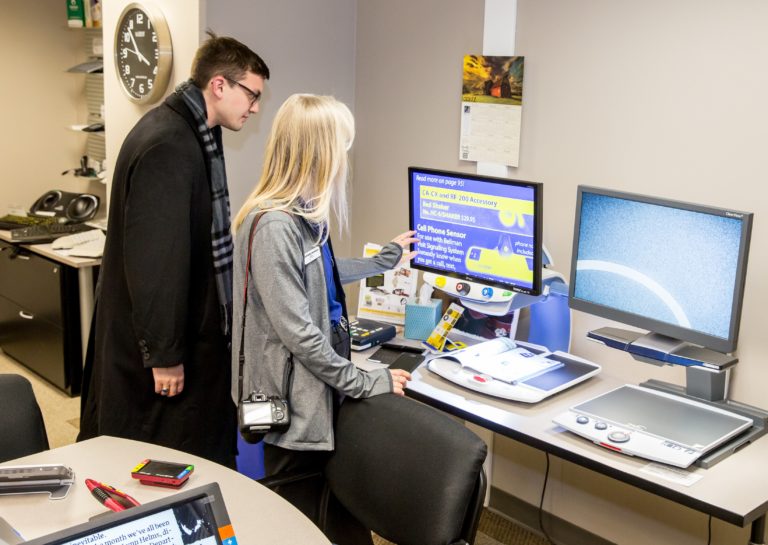 The Short-Term Equipment Trial Program is a service that allows ND and MN residents with disabilities a 6-week trial of assistive technology.
Individuals and professionals that serve people with disabilities may also access the service for their family members or clients.
This program was established so people can:
Try assistive technology before they buy it
Compare assistive technology options
Temporarily replace a device that is being repaired
Provide a temporary accommodation
Learn about assistive technology available to them or their clients
An inventory of equipment available for loan can be found on our ND AT4All website:
Be sure to choose either of the following two programs: ND Assistive Equipment Loan Library Fargo or ND Assistive Equipment Loan Library Bismarck.
If you want to reserve a device for trial, you can create an account and start the trial process or contact us at 800.895.4728 or info@ndassistive.org for assistance.
North Dakota Assistive provides an online database called ND AT4ALL where anyone can list assistive technology equipment for sale, rent, trade, or donation.
There are a number of state agencies, schools, private businesses, individuals, and lending programs that list items for sale, giveaway, demonstration, or loan. Please keep in mind that each entity will have their own criteria for giving away, selling, or lending their equipment.
North Dakota Assistive also uses this database to list all of the equipment available for long-term and short-term loans.
Through this database, you can:
List your used equipment to sell, rent, trade, or donate
Search for available used assistive technology
Place want ads for items you are looking for
Ignore
Is responsive to the consumer
Includes persons with all disabilities and across all ages in every aspect of the program
Seeks meaningful consumer involvement at all levels of the project
Provides statewide access to assistive technology and services
Addresses assistive technology issues involving all settings (home, work, school, community, and play)
Collaboratively develops a long-range statewide plan for assistive technology in North Dakota
Assistive technology available at ND AT4ALL includes but is not limited to the following:
Stair and bath lifts
Wheelchairs
Bathing aids
Scooters
Communication aids
Adapted toys
Modified vehicles
Vision equipment