ND Assistive raises dollars throughout the year to help ND Residents with disabilities obtain the assistive technology (AT) they need for independence at home.  All the dollars raised go directly toward the purchase of AT through ND Assistive Possibilities Grant program.
Individuals who are impacted by a disability and/or aging often have expenses that are above and beyond what insurances and other funding programs will cover.  This is where our Possibilities Grant steps in.  With the funds raised, ND Assistive has been able to purchase vision and hearing equipment, computer access tools, vehicle and home modifications, communication devices and so much more for people who were eligible to receive funds.
Often Possibilities Grant recipients meet with a ND Assistive AT Consultant to discuss and try out different types of AT devices to assure the best AT match is made.  We recently worked with Possibilities' recipient Sylvia, and here's what happened!
Meet Sylvia:
Sylvia has suffered from a permanent condition, called Juvenile Rheumatoid Arthritis (JRA) since she was 1 ½ years old.  Now at age 52, Sylvia relies on her electric wheelchair to go about her daily life and to be mobile out in the community.  JRA has affected all of her joints including her hands, legs, and hips requiring all of her joints to be replaced with artificial joints.  This has limited her functional status particularly in the area of self-care/activities of daily living (ADL).  Sylvia is unable to do common daily self-care such as dressing, showering, and grooming herself.  Sylvia has just enough strength to transfer from the wheelchair to the bed, toilet, or shower chair.  She shared with us the last time she took a bath was when she was about 5 years old.
Sylvia's Request:
After working with ND Assistive staff, Sylvia determined there was AT to make some of her ADLs easier or devices to get her doing tasks she has not been able to do independently.  Through the Possibilities Grant funding program, she was able to receive a bidet toilet seat for independence in personal hygiene.  Also, because Sylvia has not been able to get down into the bathtub for over 45 years, the Possibilities Grant was also able to get a Bellvita Bath Lift for her.  This lightweight bath lift will now allow Sylvia to easily transfer onto it and be taken down into the bathtub.  Sylvia is now back in the water and loving it!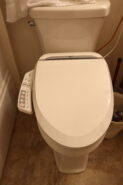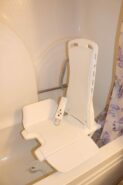 If you or someone you know would like to Donate to the Possibilities Grant or who could use these funds to help purchase AT please visit ndassistive.org for applicant information and for applicant/donation forms.