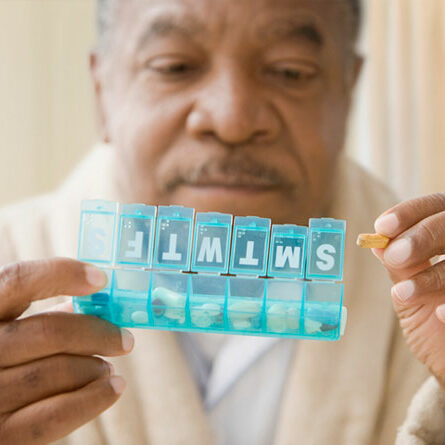 The Assistive Safety Device Distribution Service program, also known as the Senior Safety program, is designed to assist those with aging-related disabilities remain safe in their homes through the use of assistive safety devices.
Eligible North Dakota residents can receive assistive safety devices that will help increase safety and independence. If needed, equipment installation may also be provided. Because this program's budget is limited, we have initiated a priority funding system for the applications we receive. The priority markers include income, location, and extent of need. Applicants who don't meet the markers may have to wait longer, or may not have requests fulfilled.
Any North Dakota resident, age 60 or over, who is not living in a skilled nursing facility is eligible for this program. However, the Senior Safety program gives priority to the following:
Older individuals with the greatest economic need (low-income)
Older individuals at risk for institutional placement
Older individuals residing in rural areas
Alerting Devices for Hearing Loss
Anti-Elopement Devices such as Wandering Alarms – device only (no service)
Bed Rails
Caregiver Pager Systems
Couch Canes
Emergency Response Systems – device only (no service)
Grab Bars (stainless steel)
Handheld Shower Heads
Medication Dispensers and Reminders
Personal Hearing Amplifiers
Portable Seat Lift
Shower Chairs
Adaptive Silverware
Toilet Safety Frames/Rails
Toilet Seat Risers
Tub Rails
Tub Transfer Benches
Voice Amplifiers and Accessories
Limited options of certain devices will be specified by the program administrator.
Items requiring monthly fees
Durable Medical Equipment (DME) including:

Blood pressure monitors and cuffs
Braces for the knee, ankle, wrist, etc.
Canes and accessories
Commodes
Compression wear such as Jobst stockings
Continuous Positive Airway Pressure (CPAP) devices and accessories
Diabetic supplies such as blood glucose test strips and monitors
Gait and transfer belts
Leg lifters
Rehabilitation equipment such as shoulder pulleys and pedal exercisers
Rollators and accessories
Transcutaneous electrical nerve stimulation (TENS) units and accessories
Walkers and accessories
Wheelchairs, standard and transport, and accessories

Low cost and easily accessible items including:

Can opener
Jar opener
Non-slip bathmat
Reacher/grabber
Shoe horns
Sock aids
Swivel seat cushions
Items unrelated to safety including:

Laundry carts
Overbed tables
TV amplifiers
Disposable items including:

Incontinence products
Rubber sheets/mattress under-pads
Consumable items including:

Hearing aid batteries
Hearing aid cleaners or dryers
Replacement batteries
Affordable Phone and Internet Service
Some types of equipment available through the Senior Safety Program require phone and/or internet service. For example, a personal emergency response system may require landline telephone service and smart anti-elopement devices require internet service.
If you are having difficulty paying for your phone or internet service, check out our blog post about two government programs that can help: Affordable WiFi for Low-Income Households.
Please note: ND Assistive does not provide assistance with paying for phone or internet service.
Apply online or send request form via one of the contact methods listed below:
To apply via email, fax, or mail, complete a Request Form:
Funding for this program is a limited financial resource through the Older Americans Act.
Note also that this is not an entitlement program and is based on need. Preference will be given to those who fall within the priority funding areas first.
This project is supported by funding from the U.S. Department of Health & Human Services, Administration for Community Living, Administration on Aging, and granted through the North Dakota Department of Human Services, Aging Services Division.
Subscribe To Our Blog Mailing List!
"*" indicates required fields