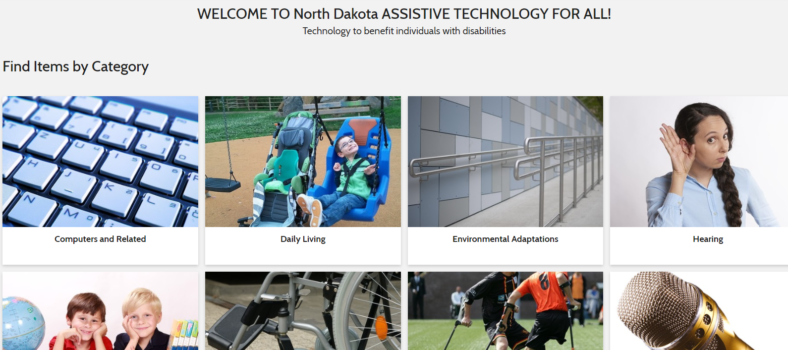 I stopped by today to let you know that ND AT4ALL has a brand new look, but provides the same valuable resources from ND Assistive along with other ND organizations.
You can check it out for yourself on our website, ND AT4ALL
Some ways to start exploring…
You can create an account by using your email address and a password, just click on Login or Create Account. If you already have an account on ND AT4ALL, simply use the same login and password you used before.
If you would like to look around before you decide to create an account, click on Home. You will see different categories to choose from. To get started, just click on the picture of the equipment that you are interested in seeing to see which devices are available.
With an account, you will be able to add items to the cart and request a no-fee, six-week trial for those particular items from ND Assistive.
If you know what you are looking for, type a descriptive word or two in the search bar. A drop box will appear with different choices. Scroll down and click on the highlighted words of your choice, and it will show you equipment and devices that are related to that choice.
Once you have checked out a device, a representative from ND Assistive will contact you to arrange the loan.
There are other options to explore in the menu as well, such as Newly Listed Items, an Item List, and a way to Contact Us. Several other organizations, along with ND Assistive, have equipment listed in ND AT4ALL, too. You will find a list of the Participating Programs and their contact information in the menu. Please be aware that each organization has their own rental or sell policies that may differ from that of ND Assistive's policies.
Please contact us at 1-800-895-4728 or info@ndassistive.org if you have any questions or you would like us to help you create an account.