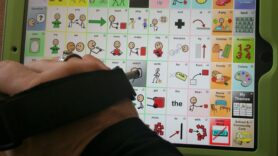 October is International Augmentative and Alternative Communication (AAC) Awareness Month.  According to the International Society for Augmentative and Alternative Communication (ISAAC), "International AAC Awareness Month is celebrated around the world each October. The goal is to raise awareness of augmentative and alternative communication (AAC) and to inform the public about the many different ways in which people communicate using communication devices." The theme this year is: Communication Beyond Borders.
According to the American Speech-Hearing Association (ASHA), AAC is "an area of clinical practice that addresses the needs of individuals with significant and complex communication disorders characterized by impairments in speech-language production and/or comprehension, including spoken and written modes of communication." AAC uses everything from line drawings to a full-fledged Speech Generating device (SGD) to help people communicate their wants, needs, and everything in between.
The AAC Institute indicates that "an estimated 3.5 million Americans experience speech disability to the extent that they have significant difficulty being understood by others. Many of these people have no speech at all and also have other physical disabilities that preclude expressive communication using gestures, writing, or typing." The goal of AAC is to achieve the most effective communication possible for the individuals who rely on AAC to communicate.
Special Offers and Discounts –
This month, several companies that manufacture AAC devices and software are offering discounts to celebrate AAC Awareness. If you are a speech pathologist, healthcare professional, clinic, hospital, school, family member, caregiver, or anyone who actively works to improve the quality of life for people who rely on AAC, now is the time to purchase!
These companies and manufacturers are offering discounts on apps for AAC Awareness Month. Pay close attention to the dates as they vary from app to app.
Assistiveware –  50% discount on these apps October 14-16, 2019  Proloquo2Go, Proloquo4Text, Keeble, Pictello, Gateway to Language & Learning©
TouchChat App – 50% off October 10-14, 2019
The Attainment Company – AAC Awareness Month Sale going on now! Visit the Apple Store for 50% off SymbolSupport iPad Apps
Speak for Yourself – 50% off (reg. $299.99) October 11-16, 2019
Tobii Dyna Vox – 15% off on Snap + Core First (reg. $49.99) and Communicator 5 (reg. $699.00) October 7-31, 2019
Avaz – 50% off on all Avaz products October 1-15, 2019
Now is the time to buy! Don't delay or you'll miss out on these special discounts!