As many of you know, one of the focuses this year for ND Assistive has been to bring smart home technology to people with paralysis in North Dakota with a grant from the Christopher & Dana Reeves Foundation.  This endeavor has been an amazing learning experience for all of the staff at ND Assistive.  We have had many challenges and many successes.  Our smart ceiling fan journey was particularly long and bumpy, but it ended with a "breath of Fresh Air".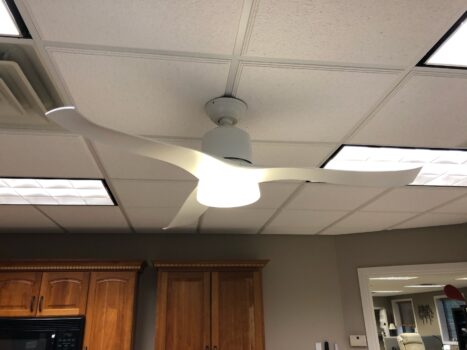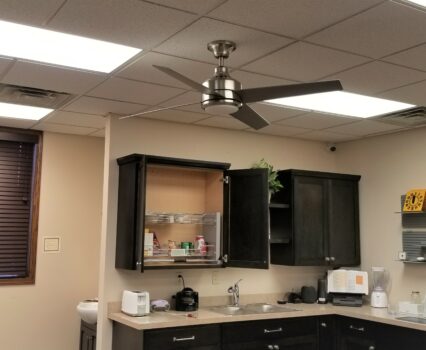 Types of Smart Ceiling Fans
There are two ways to get a smart ceiling fan; purchase one with the "Smart" features built into the device or add a specialized connecting device to an existing ceiling fan to make it "Smart".  By "Smart", we mean that one can control the device with a voice assistant such as "Alexa" and/or with their mobile device.
Built-In "Smart"
There are several companies that make ceiling fans with built-in Smart features.  We tried the Hunter Symphony, which boasted connectivity to Apple Home Kit, Alexa, and Google Home.  We installed this fan in our Mandan Smart Home First Center and after repeated troubleshooting and working with the company, we found that this fan only worked for us with the Apple Home Kit.  We also found that if you did not have an accompanying wall switch installed that you had to disconnect the power at the breaker and reconnect it in order to start the "pairing process", which connects the fan to the mobile device app and the voice assistant.  This was a difficult task in our center with the breaker box far from the fan causing us to "run like the Wind" to get back to pair in the 3 minute time span. We eventually got it connected to the Apple Home Kit and the SimpleConnect app.
As stated earlier, the website and Hunter fan box advertised Apple, Alexa, and Google, but there were only directions for the Apple Home Kit included. And last spring there was very little information on the website to be found on the topic. The accompanying Hunter ceiling fan app, SimpleConnect, was not user-friendly, and there were no directions on how to connect it with Alexa or Google Home, not to mention that the app had not been updated since 2016.  The Hunter staff were very nice, but they did not have people on their technical support team at the time when we called who could help us with the "Smart" part of the setup.  Emailing with them days and weeks later also did not provide us with a solution to our Google Home and Alexa disconnectivity situation.  We asked them to contact us when they "got Wind of" a way to connect them.
When we installed the Hunter Symphony fan in the Fargo Smart Home First Center, our electrician discovered that it was DOA and had to be returned…unfortunately this was only after it was already up in the ceiling.  Like a "Candle in the Wind", we went "out" …and returned the fan.
Add-On "Smart"
After more research, we figured out "which way the wind blew" and found the Bond, a "Smart" device that connects most ceiling fans with remote controls and allows them to be controlled by a mobile device and Alexa and Google Home.  We "threw caution to the wind" and purchased a Bond and a Mercer 52″ Ceiling Fan with Light.  The Bond works in the following way:
The remote control sends a signal to the Bond;
The Bond sends a signal to the "Smart" Bond app on the mobile device; and
The app connects to Google Home or Alexa.
We are now "Blowin' in the Wind" by voice command.
After the Fargo experience, the Mandan Center got a "second wind" and purchased a Bond device.  Their fan can now be controlled by all three voice assistants, Apple Home Kit, Google Home, and Alexa.
So if you or someone you know would like a demonstration of our smart home fans or any other device, put some "wind in your sails" and contact us for an appointment at 1-800-895-4728 or info@ndassistive.org.  "After all,  tomorrow is another day!"
The following is a video of our Fargo smart ceiling fan with Bond being controlled by Alexa.