Do you have a device with a switch or button that you would like to automate but have not found the right solution? Let me introduce you to the SwitchBot and my experience with this simple solution to automate your devices. The Switchbot is a small gadget with a robot arm that can be used to automate your current devices to act like "smart" devices at the touch of a smart phone button or by voice on several platforms. It can be used on most anything that has a rocker switch or button that can be pressed or pulled such as: light switches, coffee maker, TV, thermostat, fan, even a pet feeder, and so much more.

I was intrigued by this little device and the possibilities offered, so I purchased a Switchbot, a SwitchBot Meter, and a Switchbot Hub Mini to do a few trials in my elderly mother's apartment.  


Trial # 1.)  Utilizing the Switchbot "Bot"
I downloaded the Switchbot app, connected it to WiFi, then I affixed the Bot to a coffee maker "Brew/On" switch. With the touch of a button on the app on my smart phone, I was able to start brewing coffee without entering the kitchen.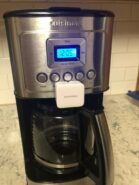 These actions can be set up on schedules or you can program routines or scenes (series of events) such as wake-up mode; evening mode; away mode, etc.
Setup is easy:
Create an account
Add device
Setup command
Pair device


Trial # 2.)  Using the Bot and the Hub Mini 
I tested the Bot to access the building's secure entrance door when my mother is unable to buzz me in. First, I installed the Hub which works as a Bluetooth-to-WiFi bridge for the Bots and enables the Bot to connect with the internet for when you're out of WiFi or Bluetooth range. Now you can control your devices or appliances remotely. Next, I affixed the Bot to her apartment's security intercom system. I then went down to the entrance door and tapped the app to buzz me in. It took a few tries to adjust the settings to determine the length of time the Bot arm is extended/pushing the button before opening the door. It required a 5 second hold, but it worked!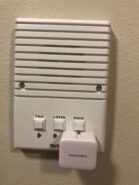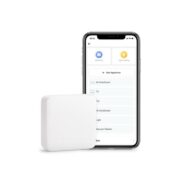 Trial # 3.) Utilizing the Bot, the Hub Mini and the Meter
I added the Meter to my Switchbot app to monitor the temperature and the level of humidity in her apartment. I affixed the Bot to her thermostat "up" button and I was able to adjust the temperature (warmer) using the app. To do the opposite action or allow for adjusting the temp both up and down, you would need a Bot for both the "up" and "down" buttons.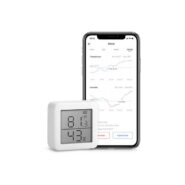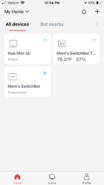 For hands-free operation, the SwitchBot hub can also be integrated with several platforms like Google Home, Amazon Alexa, Siri, Smart Things and IFTTT Technology, to allow for the devices to be voice controlled, or by the use of a SwitchBot remote.
In the short time I tried the SwitchBot – here's my take on it:
What I like most: 
It was easy to setup and connect the Hub for offsite connection. No tools required.
It's wireless and there's no need to purchase smart plugs.
It works on devices that smart plugs won't work on because they need a button depressed to turn it on (such as a coffee maker).
The meter to monitor the temperature and humidity is less expensive than installing a smart thermostat.
If you're renting, some landlords don't allow installation of smart thermostats or smart door locks. The Switchbot doesn't require anything new and is easily attached and easily removed for temporary usage.
It's less expensive than purchasing smart appliances or smart curtains since you can use it to transform your existing appliances and devices.
What I like least about it:
It only works on a rocker or button type switch.
You would need two Bots to adjust temps up and down on a thermostat.
You need ample space to attach the Switchbot to each device.
It requires WiFi for offsite connectivity.

There are many other products that can be integrated into your Bot smart home such as a motion sensor and curtain control.  To learn more about the products Switchbot offers to turn your existing appliances into smart appliances checkout their website. This can be Your Simple Switch to a Smart Home.