Most conventional kitchens are very difficult to navigate if you use a wheelchair or you have other mobility difficulties. When making your existing kitchen accessible or building a new one from scratch, the following are just a few items to get you started. Many of these, we have in our Home First Demonstration Kitchen in the Fargo IPAT Center, which was built by Braaten Cabinets in Fargo.  If you would like to set up a tour, please contact us at 1-800-895-4728 or email us at ipatinfo@ndipat.org.
Movable Shelves
Moveable shelves for upper cabinets allow one to make use of their vertical real estate.  In our IPAT Kitchen we have Rev-a-Shelf shelves that pull down and stay down until you are done.  They do take some good upper body strength, so if that is not feasible you could try an electric-powered version.
Various-cupboard add-ons
There are many different kitchen cupboard add-ons that can really add to functionality in the kitchen, especially when you have difficulty reaching into backs of cupboard shelves.  The three above are ones we have in our Kitchen.  My favorite is what I call the "Not-SO-Lazy Susan".
Pull-Out Lower Counter Space
This Wood Tamboor Table (a pull-out counter) allows one to have a lowered-height counter top when needed and to push it back into the counter when done.
Big drawers for dishes and other items
Add large drawers and then rethink where you store your items.  For example, most people put their dishes up in the high cupboards. Why not put your dishes in a lower drawer where they can be more accessible to someone in a wheelchair?
Dishwashers-drawer style
In the same line of thinking as the large drawers, why not put in an accessible drawer dishwasher.
Microwaves-Under Counter or Cart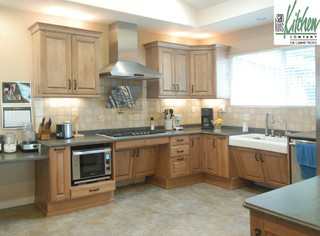 An under counter mount for the microwave can allow a person in a wheelchair to easily reach the microwave.  If that is not feasible, put the microwave on a lower-height cart for an easier reach.
Refrigerators
When considering standard full-size refrigerators, side-by-side fridges that are counter-depth or standard side-by-sides with pull out shelves can be accessible for some.  There are also under-counter mount, drawer-style refrigerators available.  If that is not practical, then adding a compact refrigerator at a height accessible to the person in a wheelchair might work.
Sink-Accessible Access
Add a space under the sink so that a person in a wheelchair can get under it. This can be done by adding a kick space area under the counter or better yet, an open space underneath the sink.  If financially feasible you could install a height-adjustable sink.  Either way you go, make sure you add a long pull-put faucet.
Think about Re-sale when Building
When you are a home owner, it is always good to think about resale ability when building or remodeling.  The hidden accessible under-the-sink space above is a great example.  The doors of this accessible space, slide back to give ample room for a person in a wheelchair to get underneath without the doors getting in the way. When closed, they give no clue as to their accessible features.
Accessible Kitchen Ideas
There are so many great ideas on the internet when planning your accessible kitchen remodel or build.  Below are just a few.