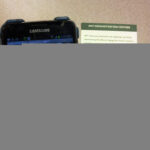 Last December, I reported on a few text-to-speech (TTS) apps with Optical Character Recognition (OCR) for Apple (iOS) mobile devices. On the Android side of the planet, there is an app called CapturaTalk from Iansyst Ltd, whose main feature includes TTS with OCR.  This full-featured app powered by ABBYY, a popular and powerful OCR engine, allows a person to take a picture of text with their Android phone or tablet (with a 5MP camera or higher) and have it read back to them while seeing the words highlighted on the screen.
Although very expensive for an app at approximately $75 US dollars, I have found the OCR to TTS  to be very accurate and easy to work with-see video below. It is a great mobile solution for someone needing TTS with OCR on the go!
There are many other helpful features with this app including a Talking Dictionary and a Text Reader for the Web.  My only wish for future upgrades of this app is for the Text Reader for the Web to read right from the web page versus taking the selected text to another window to read.  I think that could be confusing for some people.
Assistive Edge has written an article explaining more about this powerful app and the CapturaTalk company has provided a series of helpful videos.  If you are curious, but do not want to spend the approximately $78 US dollars, a 30 day trial is available.  Check it out and let me know what you think!