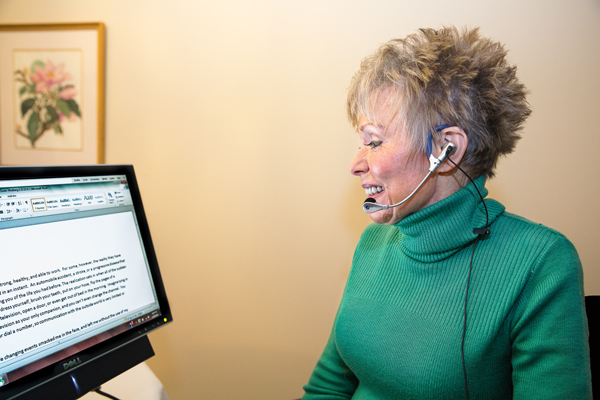 Life doesn't always turn out like we planned or ever wanted, but sometimes a much-needed gift can turn things around for the better.  Sue, a former Fargo-Moorhead business woman, shares her thoughts below after receiving equipment from the IPAT Pedaling for Possibilities Fund.
So many people today are strong, healthy, and able to work.  For some, however, the reality they have come to know has changed in an instant.  An automobile accident, a stroke, or a progressive disease that steals your muscles, robbing you of the life you had before. The realization sets in when all of the sudden you find that you cannot dress yourself, brush your teeth, put on your hose, flip the pages of a newspaper, turn on the television, open a door, or even get out of bed in the morning.  Imagine lying in bed all day having a television as your only companion, and you can't even change the channel.  You can't hold the phone or dial a number, so communication with the outside world is very limited or obsolete.

Well one of these life changing events smacked me in the face, and left me without the use of my muscles from the neck down, depending on others for everything, even to scratch my nose.

I was very fortunate to qualify for a much needed gift from IPAT's Pedaling for Possibilities Fund.  Right before Christmas, an IPAT elf called me to tell me that my computer, with specialized microphone, and voice recognition software had arrived.  This gift allows me to communicate in many ways, gives me new knowledge through libraries and books, stimulating my mind through brain teasers, lets me travel all over the world via Google, pay bills, and listen to music from Gangnam Style to Sinatra.  Trying to learn voice recognition will take a while, but when I have mastered it, I will be able to fully control my computer with just my voice……mouse and all.  Even the thought of being able to do this makes me feel like I can regain some of my life, and this is quite an amazing feeling!

IPAT Pedaling for Possibilities (P4P) helps people, 0-100+ years, with disabilities get the technology they need to help them live, learn, work, and play; what a great gift!  This is humanity at its finest!  P4P is a way to give back by pedaling on a bike and raising funds.  P4P can help someone like me or someone you know, enjoy life to the fullest and truly live again! Please Pedal or donate to the P4P fund!