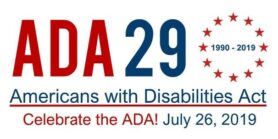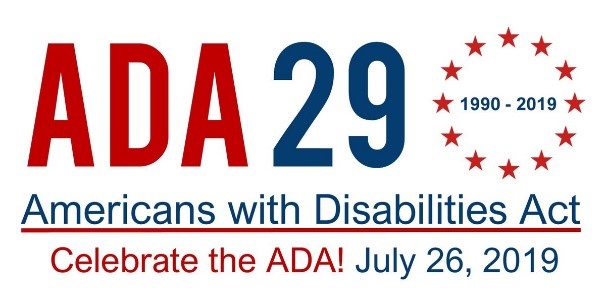 The 29th Anniversary of the Americans with Disability Act (ADA) is this Friday.  On July 26, 1990, President George H. W. Bush signed into law the ADA to give civil rights protections to individuals with disabilities.  This law prohibits discrimination against individuals with disabilities in all areas of public life, including jobs, schools, transportation, and all public and private places that are open to the general public.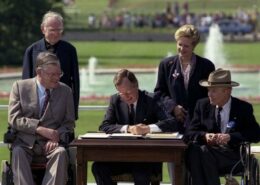 While we celebrate the ADA anniversary and its impact for individuals with a disability, we also need to celebrate Assistive Technology's (AT) role in strengthening the ability for compliance of the ADA.
Assistive Technology was recognized by Congress as a valid need for people with disabilities when they passed the Assistive Technology Act in 1988 (was reauthorized in 1994, 1998, and 2004).  AT was defined as "any item, piece of equipment, or product system, whether acquired commercially, modified, or customized, that is used to increase, maintain, or improve functional capabilities of individuals with disabilities."
AT makes it easier and possible for individuals to learn in school, work, access the community, and live safely and more independently in the home of their choice.  Under the ADA, employers are to provide reasonable accommodations to qualified individuals with disabilities.  This is where AT can play a major role in complying with the implementation of the ADA.
AT can be low-tech or high tech, it does not have to be expensive or complicated, and there is no one solution that is perfect for everyone.  However, AT devices will provide reasonable accommodations for all ages and abilities.
Here are just a few examples of different types of AT that can make a difference for the ADA's goal of disability inclusion:
Making websites accessible
Large-print text
Jaws screen reader for Microsoft Windows
Video magnifiers and CCTVs
Speech generating devices/communication devices
Dragon Naturally Speaking/speech recognition software
Telephones with amplification or visual/auditory options
Digital hands-free headsets
Personal amplifiers and assistive listening devices
Document readers or reading pens
Speech amplification systems
Memory aids – reminder watches or smart pens
Tactile/visual markings
Colored labeling
Alternate keyboards /adaptions – keyguards, ergonomic or one handed
Mouse adaptions – trackball, joystick, or head operated
We do know assistive technology will not be slowing down in making advances to improve daily life for many.  So indeed, assistive technology will continue to be stepping in to help reach the efforts for a full ADA compliance.
Let's not just celebrate the ADA on Friday, July 26, but every day!