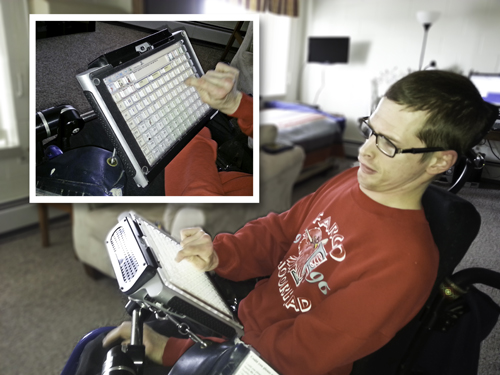 Can you imagine being without a voice for 1 ½ years? Me neither! Well, that is what happened to Chris, a 40-year-old Fargo man with cerebral palsy. His voice output communication system that he had been using since the summer of 2000 broke down, and due to insurance complications, obtaining a new device became a very lengthy process. He was forced to use a communication board without voice output in the interim, which was functional only if people actually stuck around to participate.
His temporary communication system was comprised of the alphabet and whole words on paper, mounted on cardboard. In order for a conversation to take place, the person Chris was talking with would have to read back the letters/words aloud that he was pointing to, and then remember them as each sentence was being composed and as the conversation progressed. This was not only labor and memory intensive for both parties, but many people did not understand or refused to participate and asked: "so when are you getting your new device?"
Thanks to his speech-language pathologist and student clinicians at Minnesota State University-Moorhead, insurance, and funding from the IPAT Pedaling for Possibilities fund, Chris received his new Dynavox Vmax+ with WordPower software in January of this year. Aside from being a dedicated communication device, the Vmax+ is also a Windows 7 computer, has the capability of the internet and email access, and also has environmental controls built right in, so he can control devices in his home such as his TV, DVD, fan and lights.
Chris shared that he is "pretty excited to finally be using this new Dynavox!" Although he is still learning about and getting used to the Vmax+, he reported that the Vmax+ "is much better than the old system because it uses the alphabet, whole words, phrases, and word prediction to help me communicate faster".  He said the best thing about his new device is that it "speaks everything aloud, so people don't have to look over my shoulder and read everything back to me" and "they stick around to listen!".
As far as Chris' expectations with his new device, he indicated that he was excited about the future and was, "open to anything".  He also wished to thank everyone involved in getting his VMax+ and wanted people to know how important it is to have a voice that can be heard!