Maintaining connection to our loved ones is crucial to combating the feelings of loneliness, isolation, depression, and anxiety that have arrived hand-in-hand with the COVID-19 pandemic.  As public health officials warn us to avoid in-person contact, nursing homes and assisted living facilities have shuttered their doors to visitors and residents are remaining in their rooms, even once-communal meals are now taken alone.
To compound this, our elderly and most vulnerable populations often aren't able to just pick up the phone and make a call.  Perhaps they can't hear on the phone or they can't see to dial. Perhaps they cannot remember how to dial their loved one's phone number. Perhaps they can't physically pick up the phone to dial. Perhaps their voice is so soft that even if they do call their loved one, their loved one can't hear them.
ND Assistive's Specialized Phone Program is here to help. Through the program, qualifying North Dakotans who have a severe hearing, speech, vision, physical, or cognitive impairment that makes phone use difficult or impossible can receive free specialized phone equipment.  An amplified phone could be all it takes to reconnect grandparents and their grandchildren.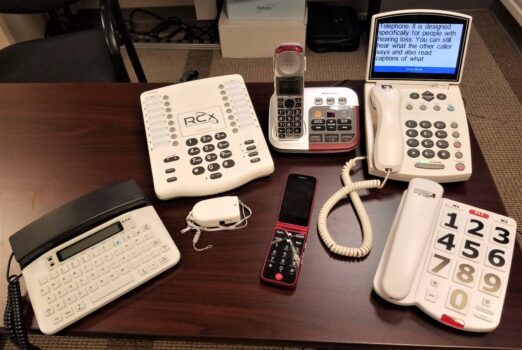 The program requires a short application that can be mailed, emailed, or faxed in.  After we receive a completed application, we will call or email to discuss possible solutions. Then we will send out a (thoroughly sanitized) phone to your home. If help is needed to set the phone up, we are available virtually via phone or video calls.
Please note: At this time, ND Assistive has suspended any in-person contact with clients to protect our clients and employees.