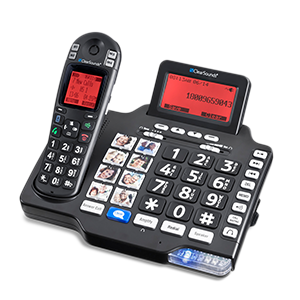 Here at ND Assistive , we have many different options for phones. We are able to provide phones through our Specialized Phone Program to ND residents who struggle using a phone due to hearing loss, vision loss or dexterity challenges.   Today, I'd like to share one of my favorites called Clearsounds iConnect A1600BT Amplified Phone.
The A1600 with Bluetooth may be an excellent choice for people who want to continue using their cellphone as their basic communication device, but need amplification during a conversation or would like larger buttons for ease of dialing. Connecting your cellphone with Bluetooth technology to this amplified phone allows you to have the features that a landline phone provides without the cost of a landline. However, you are able to connect this phone to a landline as well as your cellphone.
Just a few of the many features of this phone are:
Hybrid technology allows you to choose either your cell phone or landline for calls
50dB (125dB SPL) amplification
Digital answering machine
Call Waiting/Talking Caller ID
8 photo memory buttons and 1 emergency button on base
4 memory buttons on handset
Talking keypad
Big buttons and backlit keypads
Hearing aid compatible
Loud ringer with visual and tactile indicators
This phone is available through our Specialized Phone Program. For more information about this phone or many other options to choose from, call us at 1-800-895-4728 or email us at info@ndassistive.org.