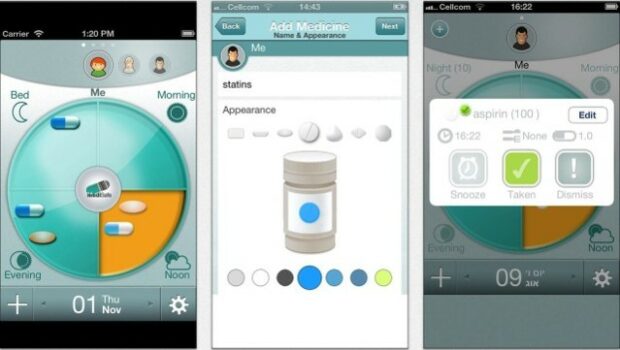 There are an abundance of apps available for users to remember to take their medications. Narrowing down which one to use can be time-consuming and confusing.  Researchers from Sydney, Australia have narrowed down the pack with their study published on December 2, 2016, where they  reported that "On the basis of the MARS assessment [Mobile App Rating Scale], Medisafe app was evaluated as the best app currently available in the app stores overall and among the advanced medication reminder apps…".
Medisafe has the following great features:
Identifies each medication with a matching name, shape, and color. It also has icons for shots, drops, creams, spoons, powders, etc.
Notifies you when it is time to take each medication with customizable sounds-even Austin Powers (Hey Baby!) and StarWars (May the Meds be with You!) if you decide to go with the $2.99/month premium version.
Sends notifications to many smartphones.
Provides a notification when it is time to refill each medication.
Virtual Pill Box allows you to see all of your medications and the schedule in one place.
Medfriend-the app will send a notification to your friend or relative if you do not click the "Take" button confirming that you have taken your medications. Note you only get one Medfriend with the Free version.
Provides a tracking system for vitals such as glucose and blood pressure monitoring.
Imports your medications from CVS, RiteAid, and Walgreens pharmacies.
Allows doctors to monitor medication adherence.
Free with ads or $2.99/month for the Premium version (unlimited Medfriends, themes, reminder sounds, and more)
I recently tried the free Android version of Medisafe to keep track of a temporary medication. that with my busy lifestyle I just could not remember to take.  I chose the default notification, which is the sound of pills shaking in a bottle. This sound is very different from your typical phone notification, which was very helpful.  When the alarm went off, I heard the "shake-a-shake" sound, and the screen flashed exactly what med I should be taking and how much.  Medisafe also sent a notification to my Garmin Vivosmart HD smartwatch, which vibrated to remind me.  This was particularly helpful when my phone was on mute. When I took the medication, I clicked the "Take" button; however, if I forgot to take it, my husband got a notification on his smartphone.
TimerCap LLC is coming out with a new line of iConnect products to simplify the tracking process that work with the Medisafe app. Take the cover off the smart pill bottle cap (iCap) or open the door of the smart medication dispenser (iSort) and it automatically records in the Medisafe app.  I am looking forward to checking this technology out for the people we work with here at Assistive.