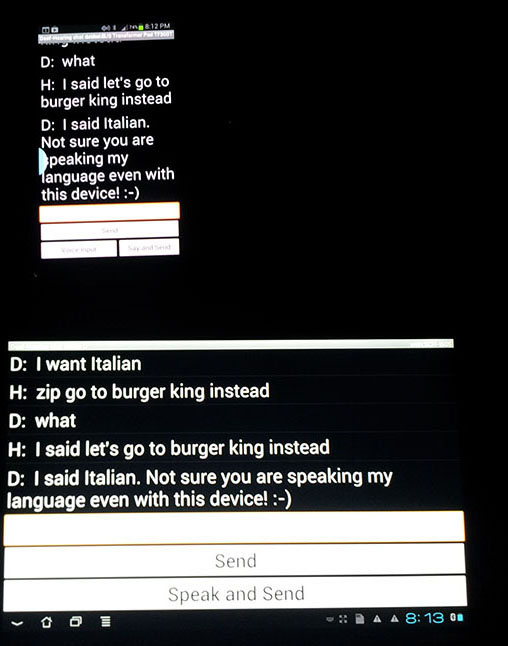 Face-to-face communication for a person who is deaf with someone who does not sign, can be difficult. Interpreters are not always available. Writing doesn't always work because it can be slow and not everyone has terrific penmanship.  Texting is great sometimes, but it doesn't work for everyone or when the service is down.  There are two-way text communication devices specifically for this situation called the Ubiduo or Interpretype; however, these are expensive, not portable, and meant to be used while sitting at a table.
Enter a set of Android apps called "Deaf/Hearing Chat Device".  The purpose of this app system is to establish a running conversation in text form between a person who is deaf and does not speak with a person who can hear. This requires two Android devices (tablets or smartphones) and a Bluetooth connection.  No Wi-Fi, 3G, or 4G required.
The person who is deaf uses an Android device with the Deaf/Hearing Chat Device-Deaf App ($5.99), and they communicate by typing or Swyping.  The person who they want to communicate with is given another Android device with the Deaf/Hearing Chat Device-Hearing App ($8.99), and they communicate by typing, Swyping or entering their text by voice with the built-in Google speech recognition engine.
We tried this at IPAT with an Asus tablet and a Samsung Galaxy Note 2, both running Android 4.1 (Jellybean) with Wi-Fi and 4G turned off.  The Bluetooth took a minute to connect, but once connected, the conversation commenced with virtually no delay between transmissions.  The voice recognition worked well even without Wi-Fi or 4G. When the transmission was sent to the phone, it vibrated to alert the user (does not work with tablets), which is really nice if communicating with someone who is "long-winded" and you doze off.
The best features, in my opinion, were not having to pass a device back and forth and being able to see the threaded conversation in real time. In addition, the font size of the app user interface was very large, even on small devices, which would be great for someone with low vision.  In the future for long conversations, I would increase the timeout on each device's display setting,  as it became annoying when the screens would turn off mid conversation.
Intrigued? Grab a friend with a smartphone or tablet and try the free limited trial versions of this app system.  Let me know how it works for you!
UPDATE: Apple iOS versions of Deaf/Hearing Chat Device are available!