Having trouble with tying shoelaces, shoelaces coming undone, or troubles untying someone else's secured knot?  When it comes to tying shoes, everyone has different limitations and learning styles.
Some of the reasons why people have problems could include conditions such as arthritis, dyspraxia, cerebral palsy, stroke, limited dexterity, recovering from recent surgery, for runners, learning to tie or tying is just becoming more difficult.  Whatever the reason, there are some great no-tie alternatives available.
Below are just some examples of options that go beyond even the traditional elastic shoelace: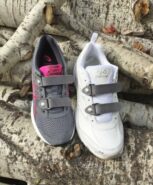 Turn lace-up shoes into Velcro.
Can place the buckle on the right or left of the shoe.
Can easily close with one hand.
Come in all sizes to fit kids, women, and men's shoes.
The cost is under $20.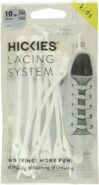 Can create your own fit (classic fit, loose fit, tight fit, or mix & match them for optimal comfort).
Come in several fun colors.
Fasten only once then never again.  Just slip on and go.
Come in kid and adult sizes.
The cost of Hickies is under $15.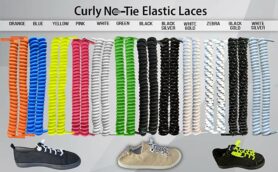 Turn shoes into slip-on's.
Laces stay in place and will not come untwisted.
One size fits all.
The cost will vary in price ($5-$15) based on how many are in a set.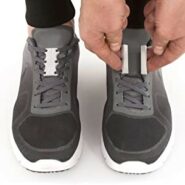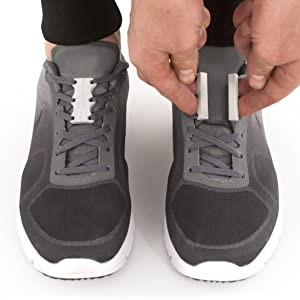 Magnet uses the shoe's current shoelaces for a magnetic lacing solution.
Three sizes to choose from with each having a different holding force for closure.
Magnets are sealed, waterproof, and will not corrode.
Magnets self-align when closing.
The cost is approximately $20.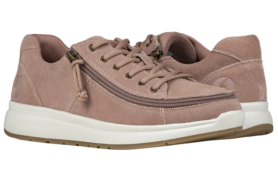 Universal zippered shoe.
Shoe sizes available in kids, women, and men sizes.
BILLY Footwear is actively working to make their shoes more Ankle-Foot Orthosis (AFO) friendly.
The cost will vary from $50 and up.
This is not an exhausted list but a sample of options to give a "step" in the right direction for no-tie alternatives.
ND Assistive has the Hickies, Zubits Magnetic Lace Solutions, and the Billy Shoe available for demonstration.   You can request an appointment to see these or we can also provide a virtual demonstration over video.  Please reach us at info@ndassistive.org or 1-800-895-4728.