When someone contacts ND Assistive's Roxanne Wells, they're greeted with a genuine smile and a sprinkle of optimism. When they ask her about the program she works with most often, she adds in a glimmer of hope.
That glimmer of hope is what drives Roxanne's passion for ND Assistive's specialized telephone program, often referred to as TEDS. It's a program, funded by state dollars, that allows North Dakotans who are visually or hearing-impaired access to telephones that will work for them at no cost.
Roxanne says, most often she'll hear from adult children of aging parents who develop loss of vision or hearing over time. They notice that their loved ones become less engaged in phone conversations and are often frustrated because they can't fully participate in conversations.
"For them to realize it's possible to talk to someone they care about and to hear them – not pretend to hear them, but actually hear them – just gives them newfound hope that the next time they talk with someone they'll actually hear the whole conversation rather than bits and pieces," Roxanne said.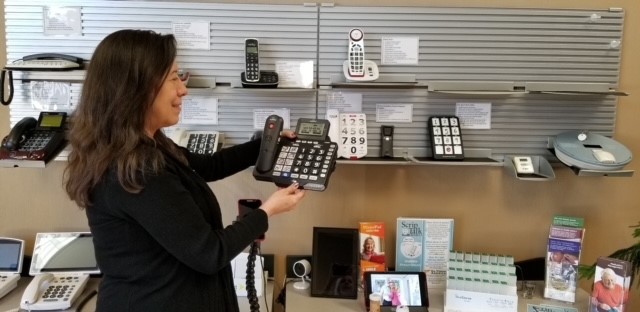 In an average week, she'll bring a little of that hope to two or three people. Which, over the course of a year, generates a powerful impact.
"When I speak to family members and they tell me mom is so happy with her phone. That's what makes me love working on this program," Roxanne said. "Seeing the real changes it can bring for people."
Roxanne will receive calls and notes from people she works with. A recent note from Patricia, who lives in Fargo, sums up what Roxanne is saying. "Thank you for making my life whole again!" she wrote.
To receive a telephone from the TEDS program, North Dakotans need to fill out an application. They can find them on ND Assistive's website at www.ndassistive.org/TEDS or by emailing info@ndassistive.org – we also have a toll-free telephone number, (800) 895-4728.
If you or someone you know struggles using the phone, Roxanne, or any of ND Assistive's Assistive Technology Consultants are trained to help you find the right one for your needs. The process is easy, and often the phone is in your hands in no time at all.
"The solution is so dependent on what a person wants or needs – corded, cordless, hearing assistance, vision; amplified, big buttons. You name it, we can find it. And it's so fun to see the changes the right phone can make," Roxanne said.
When Roxanne hears that stories of people talking, laughing, sharing with each other again, that's when she sees that glimmer of hope burst into the light of joy.
If you want to speak directly to Roxanne about the TEDS program. You can contact her at rwells@ndassistive.org or call her direct line at (701) 551-7081.