A Simple Cell Phone for Cognitive Loss
RAZ Mobility specializes in helping people with disabilities by providing mobile assistive technology. The RAZ Memory Cell Phone is a good option for people with cognitive loss that are on a cellular plan. It reduces confusion by having no applications, settings, notifications, voicemail, or requests to update the operating system.
Home Screen
The screen is always on and has pictures of contacts to work as a simple photo dialer. There is a thin rectangular button that says emergency 911 at the top. You need to press and hold it for a couple seconds and it will ask if you want to call 911 and you can press yes or cancel. This can help with mistakenly pressing it.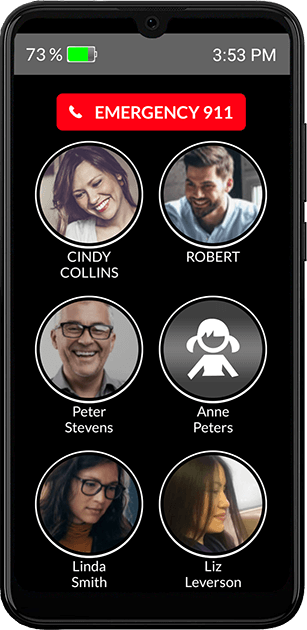 Caregiver Portal
The caregiver portal is a website that allows you to:
Create and edit contacts with pictures (up to 24)
Restrict incoming calls to contacts
Allow incoming calls from designated numbers outside of contacts
Disable outgoing calls if memory loss results in repeated calls to contacts
Track the location of the phone
Check the battery power
Check the signal strength
Disable the power button
Place all calls on speaker phone by default
Volume
I appreciate the volume on this phone. The earpiece volume reaches 77.4 decibels, and the speakerphone reaches 103.9 decibels.
Optional Extras
There is the option to have RAZ pre-install a wireless charging adapter. You can choose from the wireless charging pad for $49.99 or a wireless charging stand for $59.99. These prices include the wireless charger, installation, and a protective case.
You can also purchase a coiled charging cable available for $19.99 which may help some associate a familiar looking cable with the phone.
A subscription to RAZ Mobility Emergency Service will make the emergency button call a dispatch agent instead of 911. The agent is aware of the caller's condition and will assess the situation to see if it warrants a call to 911.  This can be helpful for those who may perceive a false emergency or repetitively call 911. Text messages can also be sent to designated caregivers, allowing them to cancel the emergency call. This plan is $79.99 per year with no activation fee.
Compatible Cellular Plans
This phone is compatible with Verizon, AT&T, Consumer Wireless, T-Mobile, Cricket Wireless, Mint Mobile, Straight Talk, Sprint, Red Pocket Mobile, and TracFone. Currently, anything that works off of Verizon towers will provide the best coverage in North Dakota.
If you or someone you know is a North Dakota resident who may be interested in a solution like this, contact us and check out our Specialized Phone Program!