The bathroom is one of the most dangerous areas in the home.  Prevent slips, falls, and injuries and increase independence by making temporary or permanent modifications to your existing bathroom.  Many options are listed below to help you with this task.  Your occupational or physical therapist, doctor, or home health worker may have specific recommendations based on your individual needs.
Bathtub and Shower
Non-Slip Bath Mats
Provide a textured surface to reduce the possibility of slipping in the bathtub/shower.  When choosing a non-slip bath mat, it is important to know not only the interior dimensions of your tub but also the type of tub surface.
Suction-cup styles work on a smooth surface. When selecting a suction-cup style bath mat, we would recommend finding one that is antibacterial, mildew-resistant, and able to be washed.
If you have a textured or reglazed tub surface the suction-cup styles will not work. Fortunately, we have located an alternative: an alternative.
You may also purchase non-slip traction stickers in a variety of shapes and sizes.
Shower Chairs and Tub Transfer Benches
Shower chairs come in many shapes and sizes, from a simple, round stool to a chair with a removable backrest and arms.  Your healthcare professional, most often an occupational therapist, may recommend specific features based on your unique needs.
Here are some questions to ask:
Do I need a shower chair with a back?
How about arms?
Prior to purchasing a shower chair, be sure to check the following specs:
Weight capacity – Is the chair strong enough to hold me? Several durable medical equipment manufacturers have bariatric versions of their shower chairs available.
Adjustable height – Can the chair be raised or lowered to be at a comfortable, safe height for me? My 6'4" husband might need a different chair than my 4'10" grandmother.
Footprint – Will the shower chair fit safely, with all four legs, inside my tub or shower?
Similar to a shower chair is a tub transfer bench. Tub transfer benches are useful to individuals who may have difficulty safely entering a bathtub; they allow the user to sit down outside the shower, swing their legs over the edge of the tub, then scoot over. There are sliding and sliding+swiveling styles available.
Prior to purchasing a tub transfer bench, be sure to check the following specs:
Weight capacity
Adjustable height
Footprint – Will there be enough room in my bathroom to move around if I have a transfer bench with two legs outside the tub?
Do you have a tub transfer bench that is not level due to extreme differences in the height on the inside of the tub versus the height on the outside of the tub? Carex makes extension legs for that!
Worried about water spilling over the edge? They make a modified shower curtain for that!
Most often, when a shower chair or tub transfer bench is utilized, a handheld showerhead is also installed. The handheld showerhead can provide a more comfortable showering experience; no one wants to be sprayed in the face.
Adaptive Showering Aids
Long-handled sponges or loofahs including bendable versions are available from a variety of retailers.
Long-handled hair washers help those who aren't able to lift their arms to their head.
Have difficulty bending to wash your feet? A long-handled footbrush or a suction-cup foot cleaner might be the solution.
Is opening your shampoo bottle difficult? Try putting it in a wall-mounted pump dispenser.
Grab Bars and Safety Railings
***ND Assistive does not recommend suction-cup style grab bars. They are meant only to stabilize, not support a person's weight. They can be dangerous if used incorrectly.***
Grab Bars
In order to be in ADA-compliant, grab bars must be able to support 250lbs at any point. Additionally, grab bars with circular cross sections (the standard kind) must be between 1.25-2 inches in diameter.
There are many retailers of standard ADA compliant grab bars. The most common lengths are 12", 16", 18", 24", 30", 32", 36", 42", 48", and 54".  Grab bars should be mounted directly into studs.
Flip-Up Grab Bars
Small space? No wall? A flip-up grab bar might be the solution.  These are ADA compliant and available with or without a toilet paper holder from a variety of retailers.
No-Drill Grab Bars
Unable to drill? No-Drill Grab Bars are ADA compliant and use a patented mounting adhesive to secure custom grab bars to tile, natural stone, concrete, metal, wood, and plastics. They are removable, if needed, and will not cause damage to the surface.
Advantage Rail
The Healthcraft Advantage Rail provides vertical and horizontal support to aid you in getting on and off the toilet or anywhere you need assistance with going from a sitting to standing position.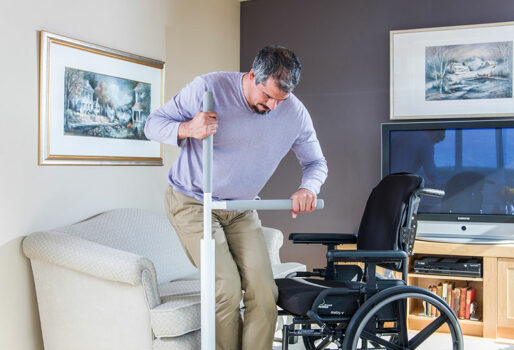 Clamp-On Bathtub Rails
Clamp-on bathtub rails are a good option for those unable or unwilling to permanently install grab bars.  They can assist an individual with entering and exiting a bathtub.  When selecting a clamp-on bathtub rail, be sure to note the weight capacity and the types of bathtub the rail with which the rail is compatible.  Most bathtub rails are not compatible with fiberglass tubs, with the exception of this one from Carex.
Toileting
Toilet Seat Risers and Raised Toilet Seats
If a highrise toilet is not a possibility, height can be added to your existing toilet using a toilet seat riser or raised toilet seat.
Toilet seat risers are installed beneath your existing toilet seat.  The typical height added with a toilet seat riser is 2.5 – 3.5 inches. Hinged styles are available for easier cleaning.
Raised toilet seats replace your existing toilet seat.  They can add anywhere between 2 – 6 inches of height, depending on the brand and style.
When selecting a toilet seat riser or raised toilet seat, be sure to check the following specs:
Weight capacity
Height – Your occupational or physical therapist may have a height recommendation for you.
Toilet shape – Toilets come in two shapes, standard round and elongated.  Watch this video for a tutorial on determining what shape of toilet you have.
Toilet Safety Rails and Frames
If moving from a seated to a standing position is difficult, you may wish to add toilet safety rails or a toilet safety frame.
Toilet safety rails are compact grab bars that are mounted beneath the toilet seat using the toilet seat bolts. They can be a good option for small spaces or for someone with a vision disability (reduce the likelihood of tripping).
A toilet safety frame is mounted beneath the toilet seat using the toilet seat bolts but, unlike the rails, the legs go down to the floor.
Hygiene
Is wiping difficult due to physical restraints?  A wiping aid or bidet might be the hygienic key you need.
At the Sink
Tremors and Arthritis 
Do tremors make it difficult to shave or brush your teeth?  Try adding a weighted holder to your razor or toothbrush.
Unable to put the toothpaste on your toothbrush due to tremors or difficulty with grip? A toothpaste tube squeezer might be the trick.
Grooming/ Make Up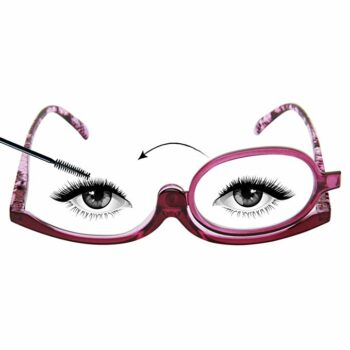 Has arthritis made it difficult for you to use a standard tweezer? Try one with a big, non-slip grip.
Like me, are you unable to see to do your eye makeup? Makeup glasses are a real thing!  They are available from several retailers in a variety of strengths.
A lighted, magnifying mirror can be a helpful tool for makeup application, applying eye drops, tweezing, shaving, etc.
Hair Care
Long-handled brushes take the strain off your shoulders by extending the handle of the brush.
A hands-free hair dryer stand can also be a helpful tool.
Nail Care
Scrub your nails clean with a suction-cup mounted nail brush.
Unable to manipulate a traditional nail clipper? Try a table-top version or one with built-up grip.
Can't reach your toes to trim your nails? Try an Easi-Grip Long Reach Toenail Clipper.
Funding Help through the Senior Safety Program
ND Assistive's Senior Safety Program may be able to provide you with items to help keep you safe in the bathroom.  If you feel you are a good candidate for this program, please complete the Senior Safety Request Form available by clicking the link above or by calling ND Assistive at 800-895-4728.  Please note that this program is only available to North Dakota residents aged 60 and over.
Need additional assistance?
Contact ND Assistive at 800-895-4728 or email info@ndassistive.org.