Do the remotes in your home feel like they're multiplying?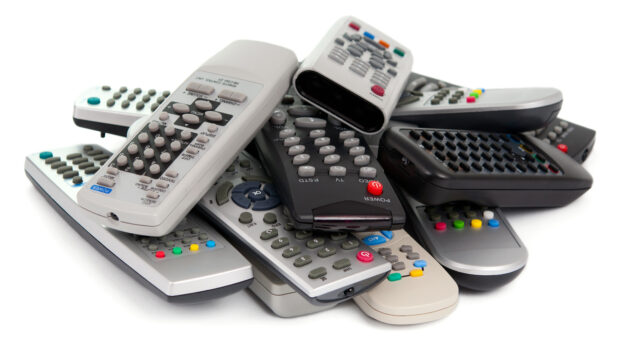 Worse more, are your remote letters and numbers too hard to read and/or too hard to press? Or do your remotes keep disappearing, only to reappear months later after you've purchased a replacement remote?
Connect Your Remotes To Work With Your Smart-Home Devices!
Essentially, the Harmony Hub is an all-in-one universal remote. Using a smartphone or tablet, you can link all your home entertainment and many smart-home devices physically to the Harmony Hub which links to the Harmony app on your smartphone or tablet (Remotes->Harmony Hub->Harmony app). This gives you the ability to have many of your remote controls all in one place. To control all these devices with voice, you can link your Harmony app to your Echo device through the Harmony skill found in the Alexa app. Note: The Harmony Hub also works similarly with Google Assistant.
What I Like The Harmony Hub can link almost any entertainment device and smart-home device you can imagine. This includes televisions, DVD players, stereos, home entertainment systems, smart-home lights, smart-home thermostats, and more.
What Needs Improvement The app! Unfortunately, the Harmony Hub app is sloooooow. Although setting up your remotes and smart-home devices is relatively easy, be prepared to spend at least 4 or more hours setting up and programming your entertainment devices to be used by voice through Alexa.
The Bond turns your remote controlled ceiling fans or fireplaces into smart-home devices. In the near future, The Bond plans to add devices such as motorized shades, garage doors, and air conditioners to their list of compatible devices. Like the Harmony Hub, you link your device's remote to The Bond which links to The Bond app (Remote->The Bond->The Bond app). To control your devices with voice, you can link your Bond app to your Echo device through the Bond skill found in the Alexa app.
What I Like Very easy set-up. It took me less than 10 minutes from start to finish.
What Needs Improvement I'd love to see more devices compatible with this device.