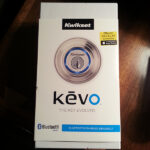 I was  interested in the KEVO Bluetooth Enabled Deadbolt months before it was released; anticipating, that this tech-enabled lock could be a solution for some people with disabilities, who were previously unable to open a standard deadbolt.  I was hopeful that this lock could be activated not only with just a tap of the finger, but with a Reacher or pointing stick.
So what is this device exactly?
Kevo by Kwikset is an automated deadbolt for residential doors. According to the company, this lock opens with just a touch of your finger, as long as you are in range of a specialized key fob or your Apple mobile device with the Kevo app.
Will the Kevo actually let you in the house the way it was designed to?
Well,  yes and no.  Can it open with just a touch after installation and calibration? Yes.  BUT…you will have consistency ONLY if you use the included key fob, at least in my experience.  In a video on the Kwikset website, a lady is shown with her phone deep in her purse standing far behind her daughter, who easily unlocks the door with just a touch. I definitely did not have the same experience.  For me, this lock worked only if the phone was partially out of my front pocket.  On some occasions, I even had to take the phone out of my pocket and hold it within one foot of the door in order for activation to occur. Other users have had much more success, such as those at CNET.
The included key fob was much more "inviting"!  With this light little key, I was able to open the door with just one tap in the majority of tries, and if that did not work a second tap did the trick.  It did not matter where the fob was located, buried deep in my very cluttered and cavernous purse or shoved in my pocket.  I do recognize that I might have been having issues with the Bluetooth/iPhone because the lock was not actually installed on a door; however, the key fob had virtually no issues.
So might this new lock work for people with severe physical disabilities?
Yes, I think it could for some.  If the person can maneuver their hand to the deadbolt, a touch is all you need.  For those who are unable to reach the deadbolt with their finger, I discovered that a metal tipped Reacher worked consistently to trigger the lock.  Pointing devices devoid of a metal tip such as a rubber tipped Reacher, I found not to work at all.
In summary, although Kevo was not as "welcoming" as I had hoped with the app and iPhone, I do think that this automated lock with the key fob could bring new-found independence to some people who previously could not unlock their deadbolts. Another suggestion would be to pair this new wave lock with another new product, the Push, Pull, Rotate doorknob from Brinks.  This combination just might allow someone complete freedom to enter their own home without having to install a very expensive automatic door opener.  Would you like to try this device for yourself? Give us a call to schedule an appointment at your nearest IPAT office at 1-800-895-4728.