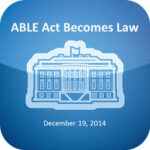 If you are an individual with a disability or have a family member with a disability, this blog is for you.
Due to the passage of the Stephen King Jr., Achieving a Better Life Experience (ABLE) Act in 2014, you can now open tax-advantaged accounts for the purposes of saving to cover the costs of disability-related expenses, to include assistive technology.
To see if an ABLE account is for you, check out 10 Things You Should Know. If setting up an account makes sense for your family, know that every state across the country will be launching ABLE accounts within the next few months. North Dakota will be making ABLE accounts available through the Bank of North Dakota. Beneficiaries across the nation are free to choose from any ABLE account, regardless of their state of residence.  So remember to compare ABLE account programs with your needs in mind.
To clarify the ins and outs of this new legislation, the ABLE National Resource Center (ANRC) has created a website to educate interested parties and relevant stakeholders about the benefits of these accounts. Interested? Visit ANRC's website to learn about:
State-by-state ABLE development statuses;
Side-by-side comparisons of ABLE program characteristics;
Informational ABLE videos;
Archived ABLE webinars;
Published ABLE-related research;
Summaries of ABLE-related policies, rules and regulations;
Frequently asked questions (FAQs);
An online portal to submit ABLE-related questions; and
ABLE announcements.